Harpoon Releases White IPA in 100 Barrel Series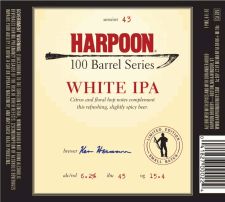 BOSTON, MA (August 2, 2012) – This morning, the Harpoon Brewery is bottling the latest installment of their 100 Barrel Series, White IPA. This is the 43rd offering from Harpoon's 100 Barrel Series, the brewery's line of unique, handcrafted limited batch beers.
Harpoon brewer Ken Hermann took the helm on the brewhouse floor to create this White IPA.  Simcoe, Cascade, and Citra hops give this beer the citrus and floral notes of an IPA, while the spiciness and soft mouthfeel are more reminiscent of a Belgian Wit. The Vienna Malt adds depth to the malt profile and gives the beer subtle biscuit notes.  Ground coriander lends a spicy aroma up front, while the finish is clean and refreshing, with a noticeable hop bitterness.
"I hadn't tried many examples of this style before developing the recipe, so I just tried to brew something that I personally would want in a white IPA," says Ken. "I wanted to brew a uniquely American beer that would maintain the signature qualities of two distinct styles while forging a direction of its own."
Ken originally brewed a variation of this beer for a brewing competition in Providence, RI.  It turned out to be an interesting, hoppy twist on the wit beer style, and it inspired Ken to brew the White IPA.
Harpoon introduced the 100 Barrel Series in 2003 to showcase the individual brewing talents of its brewers.  Every couple months, a different Harpoon brewer is invited to choose a style of beer, formulate the recipe, and brew the beer.  That brewer's signature can be found on the bottle label.  The beers in the series are one-offs; they are brewed in limited batches and are available only until the batch sells out.  Since the series began in May of 2003, 43 different styles of beer have been brewed.  For a complete list of beers that have been released as part of the 100 Barrel Series, visit www.harpoonbrewery.com.
The Harpoon 100 Barrel Series White IPA is available in 22 oz. bottles with limited draft availability.  Ken suggests pairing this IPA with grilled seafood, curry, and a mixed greens salad.
Harpoon 100 Barrel Series White IPA Beer Specifications:
ABV:    6.2%
O.G.:   15.4
IBUs:   45
For additional information about the Harpoon Brewery and the Harpoon 100 Barrel Series, please contact Liz Melby at [email protected].
About the Harpoon Brewery:
The Harpoon Brewery was founded by beers lovers, Rich Doyle and Dan Kenary.  In 1986 Harpoon was issued Brewing Permit #001 by the Commonwealth of Massachusetts, since it was the first brewery to brew commercially in Boston after a dormant period of about 25 years.  Harpoon's line of craft beer features its award winning IPA and UFO Hefeweizen beers, along with four special seasonal selections. In 2000 Harpoon purchased a second brewery in Windsor, VT, making Harpoon the 8th largest craft brewer in the US.  Harpoon has since introduced two lines of limited edition beers, the 100 Barrel Series and the Leviathan Series, as well as the all-natural Harpoon Cider made from freshly pressed, local apples.  For more information about Harpoon beers and visiting the breweries, visit www.harpoonbrewery.com.