Harpoon Brewery to Release Docesna as Part of 100 Barrel Series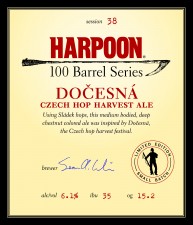 Harpoon Brewery has added another beer to  their 100 Barrel Series.
Below is some information #38, Docesna, coming out in August; Docesna, our Czech Hop Harvest Ale. Cheers!
Name:  Docesna, Czech Hop Harvest Ale
Series:  100 Barrel Series Session #38
Description:  Inspired by Docesna, the Czech hop harvest festival, this medium bodied, deep chestnut ale uses genuine Sladek hops.
This deep chestnut colored ale uses Sládek hops imported from the Zatec region. The Sládek hops provide a clean, slightly bitter but smooth finish. With a medium body, it is well balanced beer.  A great choice for celebrations.
Brewer:  Sean Cornelius
ABV:  6.1
IBU:  35
OG:  15.2
Release date: August