Hardywood Park Craft Brewery Now Has a QA Department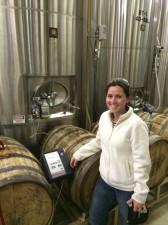 (Richmond, VA) – In 2014, Hardywood Park Craft Brewery is investing in quality in a big way. The company's new quality assurance department will be headed by food scientist Kate Lee, an industry veteran with more than 12 years experience running labs across the country for Anheuser-Busch InBev, and most recently serving as assistant brewmaster at AB-InBev's Williamsburg, Virginia plant. A Richmond resident, Kate reveals "I'm very excited to be joining the Hardywood team and am looking forward to integrating my experiences into such an amazingly creative environment," adding "it's great to see the importance that Hardywood places on quality."
Along with head brewer Brian Nelson and assistant brewer/organic chemistry guru Ken Rayher, Kate is establishing an all encompassing, grain to glass program to keep quality at the forefront of Hardywood's mission as the company grows. The addition of a new laboratory, a range of testing equipment, a dedicated yeast propagation area, a visitor friendly pilot brewing area, a growing relationship with VCU's Life Sciences department and plans to offer occasional science focused beer classes will round out the first stage of Hardywood's quality assurance investment.
"As a fledgeling production brewery, what we lack in economies of scale, we hope to make up for with unrivaled quality in our beer," explains Hardywood president and co-founder Eric McKay. "Our team has done a fantastic job of brewing unique beers that excite people," says McKay, adding "Kate brings industry leading qualifications that will help us ensure every drop of Hardywood beer is exceptional in quality, which is critical to us as we expand distribution."
Brewmaster and co-founder Patrick Murtaugh states "we plan to continue expanding our creative horizons in the coming months, experimenting with new local ingredients and fermenting with wild yeast strains and developing house proprietary yeast strains, so having a scientist with Kate's experience on staff will enable us to explore these new boundaries confidently."
After two full years in business, Hardywood's beers have earned a 2012 World Beer Cup medal, three Virginia Beer Cup medals, a 2013 Style Weekly Best in Show accolade, a 2013 Virginia Living Magazine Best of Virginia award, a perfect 100 score by Beer Advocate Magazine, and seven of its beers currently rank in the top 50 in the world for their respective style based on BeerAdvocate.com user reviews. The company was awarded the 2013 Greater Richmond Chamber of Commerce Business Council Business of the Year Award for the City of Richmond.