Hardywood Park Announces New Pilot Brewery & Taproom, Opening 2/18
(RICHMOND, VA) – Hardywood Park Craft Brewery announced today that their new Charlottesville Pilot Brewery & Taproom will have its grand opening on Saturday, February 18. Located at 1000 West Main Street in downtown Charlottesville, the 3600-sq-ft space will serve as the brewery's main hub for research and development. Pilot recipes will be brewed and served on-site for patrons to taste and share their feedback. Popular beers tested at the Charlottesville brewery will be considered for wider production, especially once Hardywood's Goochland brewery comes online.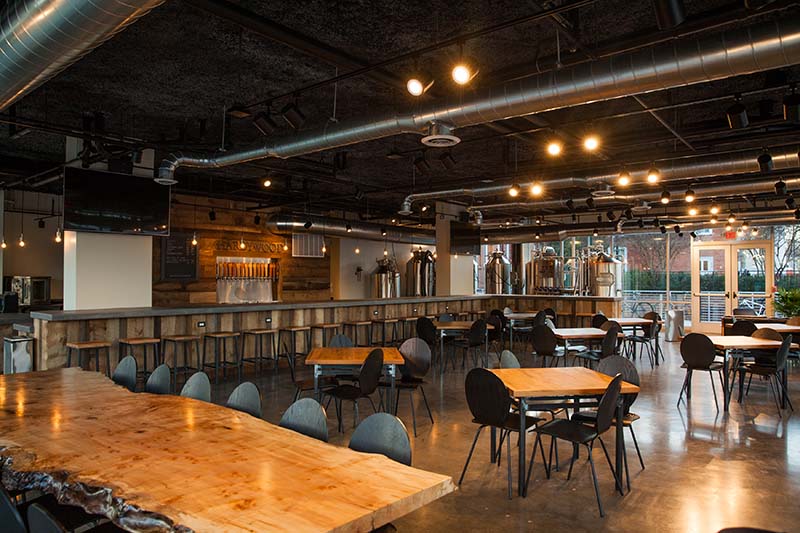 "Our new Charlottesville innovation brewery marks the beginning of a new chapter for Hardywood. It creates the perfect opportunity for us to regularly release new pilot-batch brews, collaborations and some tasty experiments," said Hardywood President and Co-founder Eric McKay. "We are particularly excited to immediately serve those new beers directly to the public and use their feedback to identify some new signature Hardywood beers."
PILOT BREWERY
The Charlottesville location features a 3.5-barrel Premier Stainless brewhouse. The system is fully visible behind the main bar, so guests can watch the entire brewing process. Kevin Storm, who most recently led the development of Hardywood VIPA and Tropication, will serve as the Charlottesville Lead Brewer. At the age of 21, Storm began his career as the youngest commercial brewer at Asheville Brewing Company, moving on to work with Sailfish Brewing Company before joining the Hardywood team in June 2014. He will work alongside Assistant Brewer Anna Warneke, on apprenticeship from Germany.
Hardywood has several collaborations in the works with esteemed fellow craft brewers: Funky Buddha Brewery, The Bruery, 2SP Brewing Company and New Belgium Brewing, with whom Hardywood is partnering on the SAVOR 2017 10th Anniversary collaboration beer. Hardywood has also started working on collaborative concepts with Charlottesville locals Early Mountain Vineyards and Champion Brewing Company.
TAPROOM
Guests at the Charlottesville taproom will be able to enjoy a full selection of Hardywood's flagship and seasonal beers on draft, in cans and available for to-go purchase. Pilot-batch beers brewed on-site will be available exclusively at the taproom. Comment cards and iPads will be positioned throughout the taproom to capture guest feedback on new recipes. The taproom has capacity for 150 people and includes a furnished outdoor patio. Previously Hardywood's Private Events Coordinator, Keisler Baquiran will serve as the general manager for the Charlottesville location.
"As we have found in Richmond, a local taproom is especially effective in building awareness and demand for Hardywood beer at our restaurant and retail partners in the region," said McKay. "Our hope is for this new Charlottesville taproom to provide a similar boost to our partners in the central and western parts of Virginia."
Hardywood will also offer signature house-made "Singel" pretzels for sale, a custom recipe designed using Hardywood's original flagship Belgian blonde ale, Singel. These doughy, fresh-baked pretzels will be served with a choice of sauces, including beer cheese and beer mustard. In addition to 14 draft lines, nitro coffee from Confluence Coffee Co. and Blue Ridge Bucha will also be on tap. Charlottesville-based Gearharts Fine Chocolates, Richmond-based Nightingale Ice Cream Sandwiches, and trail mix by Whitley's out of Gloucester will also be sold, as well as non-alcoholic beverages.
True to Hardywood's commitment to minimizing environmental impact, the Charlottesville space will use 100% renewable electricity through Dominion's Green Power program. Furniture and fixtures are crafted from reclaimed wood by local design partners Wellborn + Wright and Ore and Fiber.
The taproom will be open to the public, Tuesday-Sunday 12-10PM. Private event rental options will be available on Mondays.
GRAND OPENING
Hardywood will officially open the doors at Charlottesville on Saturday, February 18, celebrating with a grand opening from 12-10pm. That afternoon, the University of Virginia basketball team takes on the Tar Heels at North Carolina, so guests are invited to watch the game on Hardywood's big-screen TVs. Local butcher JM Stock will be on-site, cooking Stock burgers and sausages from 12-4PM.
For the grand opening weekend, Hardywood is brewing three pilot-batch beers, including:
Hardywood Shipman's Porter, a traditional brown porter, 7.7%
Hardywood Arschgeweih Weisenbock, 7%
Hardywood Byki American black IPA, 7.5%
"We started as home brewers, working on our craft for a decade before launching Hardywood. As we've increased production in recent years, we have amassed a long list of new recipes and ideas that we can't wait to test on this new pilot system and share with the public," said Hardywood Master and Co-founder Brewer Patrick Murtaugh.To learn more about the Hardywood Charlottesville Pilot Brewery & Taproom, please visit: www.hardywood.com/charlottesville.
ABOUT HARDYWOOD PARK CRAFT BREWERY
Hardywood's mission is to brew with purpose. This charge comes alive in our thoughtfully innovative recipes, our commitment to using local ingredients and our obsession over quality. Our beers range in style from traditional to experimental, but there's a story behind each one.
Hardywood is deeply dedicated to minimizing our environmental impact. All of our power is sourced from renewable energy, and we use recycled packaging and sustainable materials whenever possible.
Founded in Richmond, Virginia, by lifelong friends, Hardywood Park Craft Brewery has been soulfully brewing beer since 2011. Today, Hardywood operates a brewery and taproom in Richmond as well as a pilot brewery and taproom in Charlottesville. In early 2018, Hardywood will open a new $28M brewing facility and beer campus in Goochland, Virginia. Hardywood beers have earned international acclaim with medals at the World Beer Cup and Great American Beer Festival as well as a rare 100 rating by BeerAdvocate Magazine.
Hardywood beers are currently distributed throughout Virginia, Washington, D.C. and eastern Pennsylvania.