Hangar 24 Barrel Roll No. 5 Chandelle – Re-Invented, Returns 11/28
(Redlands,CA) – On Black Friday, November 28th, Hangar 24 Craft Brewery will release a re-invention of their Chandelle, a bracingly sour blonde ale infused with 850lbs of Golden Sweet apricots. As Hangar 24's first major sour release since the original Chandelle debuted in 2012, "Chandelle 2.0" leads a charge of new sour beers soon to emerge from the brewery's greatly expanded barrel-aging and sour beer program. While most beers begin and end in the brewhouse, a sour beer like Chandelle is largely crafted in two other places: in the barrel, and in the laboratory. Joe Wells runs the brewery's Quality Assurance and Quality Control lab, in addition to serving as an overseer of the brewery's stock of close to 300 oak barrels. He expanded on the dual nature of the process:
"Sour beer is what made me want to work in a brewery. Creating a balanced and drinkable sour beer is equal parts art and science. We build the base beer and select oak vessels, and then we leave the final act up to the wild yeast and time. Our reward for this trust in wild yeast is a delicate, acidic and vibrant beer."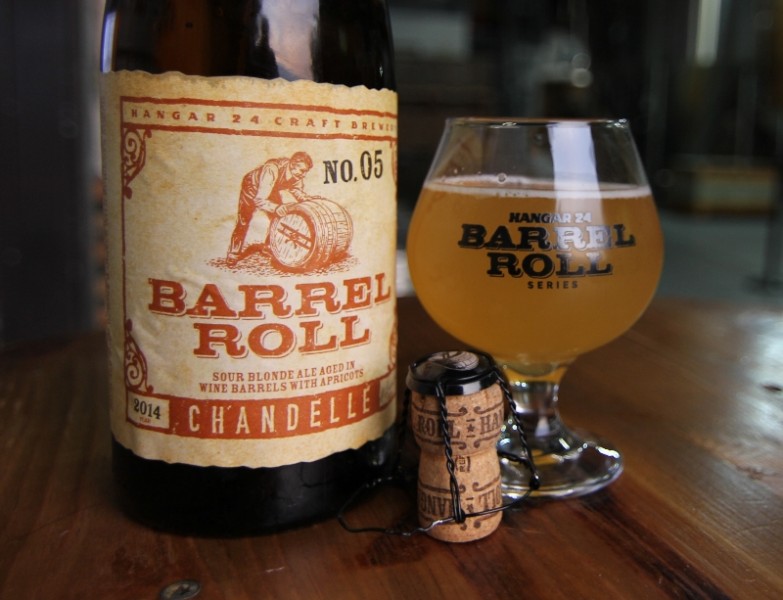 In the case of Chandelle, it all begins with a simple blonde ale, brewed with malted and unmalted wheat and placed into freshly emptied Sauvignon Blanc wine barrels. This base beer is designed to have a large amount of very specific fermentable sugars, which will be consumed by an assortment of wild yeasts and bacteria added into the barrel, and available naturally on fruit or in the oak. These wild biota (living organisms) slowly mature the beer, producing acidity, funk, fruitiness, and tart, often bracingly sour flavors that make sour beer lovers' mouths water. In a sense, you could say that sour beer isn't "brewed," but is truly born within the barrel.
Throughout the process, Hangar 24 uses their fully equipped laboratory to monitor the beer's development.
"We check pH as well as measuring titratable acidity to get a better idea of acidic flavor," Wells expanded. "We monitor gravity of the beer using a digital density meter, finding the maximum attenuation the wild biota will accomplish. Lastly, and most importantly, we taste. Our most accurate, complex and delicate analytical instrument is contained in our heads, and we sample and taste the beer as we go until it tells us what it wants to be."
After a year developing, each barrel of this blonde ale has taken on its own completely unique character. This is when Chandelle is finally created, through careful blending of these barrels and the addition of the fresh fruit.
"For a fruited sour like our Chandelle, we want a beer that perfectly complements the delicate, slightly earthy flavors and aromas of the delicious Golden Sweet apricots which serve as the final addition to the beer. We targeted a bright acidity and intense white wine flavors, and selected 10 barrels from our stock that all added different elements to the blend. Not too funky, not too sweet- a dry base upon which we knew 850lbs of fresh fruit could build."
Chandelle is the fifth entry in Hangar 24's Barrel Roll series of barrel-aged beers. Only 3,000 750ml, corked and caged, hand-numbered bottles will be released in the Hangar 24 Tasting Room beginning on Black Friday, November 28th, at a Brewery launch celebration from 11am until midnight. Bottles are $20 with a limit of one 12-bottle case per customer. On launch day guests will also be able to purchase 3oz tasters and half-pints of Chandelle straight from the bottle.
About Hangar 24 Craft Brewery: Hangar 24 Craft Brewery was founded in 2008 across from the Redlands, California airport. Widely known for their flagship beer, Orange Wheat, the brewery takes its name from the hangar in which Founder and Master Brewer Ben Cook and his fellow pilots would meet up with family and friends for a day of flying. Afterwards they would share stories, barbecue, play music and enjoy Ben's latest batch of homebrews. Hangar 24 Craft Brewery embodies that spirit: good beer, a love of flying and the pure enjoyment of being among good friends.
About Hangar 24's Barrel Roll #5 – Chandelle: Chandelle represents a perfect balance of fruit and funk, marrying the bright flavors of Golden Sweet apricots with the oak-aged complexity of sour beer. It begins as a blonde ale brewed with both malted and unmalted wheat, a blank canvas which is laid down in freshly emptied white wine barrels and topped off with our house souring culture. Over the course of a year these yeast and bacteria transform the liquid, bringing forth a beer that is both deeply funky and refreshingly sour. The barrels are then blended back together just before the final addition- a generous helping of fresh apricots, plucked from Blossom Bluff Orchards in Central California. The tart flavors of the fresh fruit perfectly balance the acidic, bracingly sour base developed in the barrel.