Half Acre Beer 2021 Vintage Double Barrel Benthic Release Details
(Chicago, IL) – Double Barrel Benthic, our biggest and final release of the 2021 Benthic brewing season. We selected Willett and Heaven Hill bourbon barrels for the first seven month residence, before blending into freshly emptied apple brandy barrels for an additional seven months' time. To conclude, we infused both toasted coconut and cinnamon.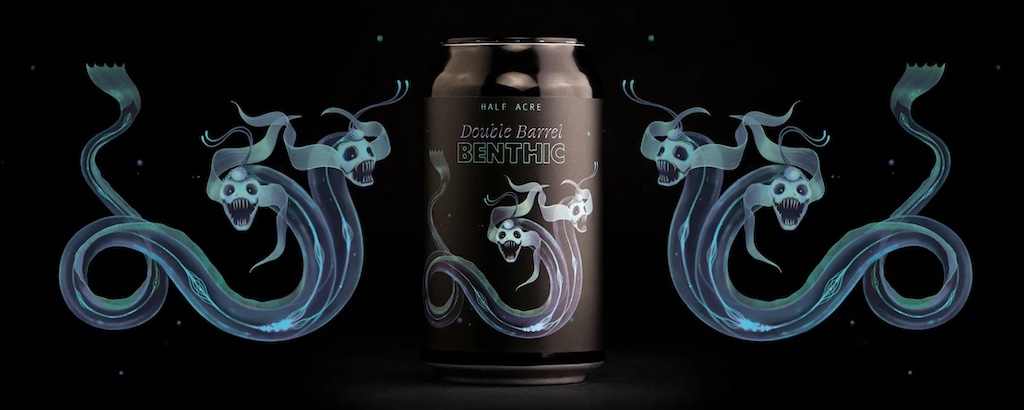 By aging the entire batch in multiple sets of barrels we achieve more overall barrel character, diverse spirit character, and dial up flavor potency. Double Barrel Benthic is a thickset stout. Heat from the apple brandy barrels and the spice of the cinnamon lands like spirit-rich apple pie mixed with decadent chocolate and macaroons.
Double Barrel-Aged Imperial Stout with Coconut and Cinnamon / 15.3%
PURCHASE INFORMATION
Sold in a 2 pack of 12 oz cans for $29.99. One ticket = one x 2 pack. Limited to one 2 pack per guest. Guests will be refunded if they purchase more than one 2 pack.
Pick ups will be available from Friday 3/11 until Sunday 3/20
Friday 11am to 10pm
Saturday 11am to 10pm
Sunday 11am to 9pm
Wednesday 3pm- 9pm
Thursday 3pm-9pm
You will be able to authorize a proxy by sending them your ticket QR code.
Please note: Your ticket is not confirmed until you purchase and receive a confirmation order. A randomized queue will form.
Tickets go on sale at 9 am on 3/11. At 30 mins prior to on sale time (which is 9 am), a waiting room will open. Exactly at the time for on sale; fans will be randomly entered from the waiting room into a queue for their chance to purchase tickets. In regard to the waiting room, there is no benefit to someone waiting for 30min or 1min; exactly at the time of on sale the queue to purchase will trigger and fans in the waiting room will be randomly entered into the queue. Once out of the queue, fans will have the opportunity to purchase tickets. Tickets may sell out while you're in the queue. Tickets are only confirmed once an order confirmation screen is displayed (and you'll soon thereafter receive a confirmation email w/ receipt.)
If you need support after purchase, please email [email protected].
OPEN ADMISSION EVENT (no purchase necessary)
Saturday, March 12, at 12:00 pm
Doors open at 11:00 am
We're hosting a conversation with our Director of Brewing Operations Matt Young and Creative Department Manager Justyna Gluch on Double Barrel Benthic and the Benthic Series.
This event is open to the public, and there will be questions from the audience after the initial chat. Food and beer will be available for on site purchase and enjoyment, including Double Barrel Benthic and other barrel aged beers. This event will be capped at seventy persons.
Persons must be 21+ to purchase beer.
Location
2050 W Balmoral Ave
2050 W Balmoral Ave, Chicago, IL 60625, USA
About Half Acre Beer
Half Acre was founded in 2007, by selling beer in Chicago that we brewed at Sand Creek Brewing Co. in Wisconsin. In 2008, we opened one of Chicago's pioneering breweries on Lincoln Avenue. We added a retail shop in 2009 – the first of its kind. 2009 also saw the explosion of Daisy Cutter and Half Acre's reputation in the beer community. In 2015, we transformed a 60,000 square-foot factory into our current home and brewery on Balmoral Avenue. Half Acre is made up of humans that respect one another, consider integrity a benchmark for success and appreciate your interest in what we brew.