Gunwhale Ales Announces New Brewery + Taproom in Orange, CA
(Orange County, CA) – Gunwhale Ales, an award-winning brewery announces the opening of a state-of the-art brewery and taproom in Orange, California. The grand opening of the expansion facility is set for this coming Labor Day weekend, at 11:30am on Saturday, August 31st. Located at 1501 W. Orangewood Ave in the City of Orange, the new taproom is conveniently located in walking distance to Honda Center and Angels Stadium.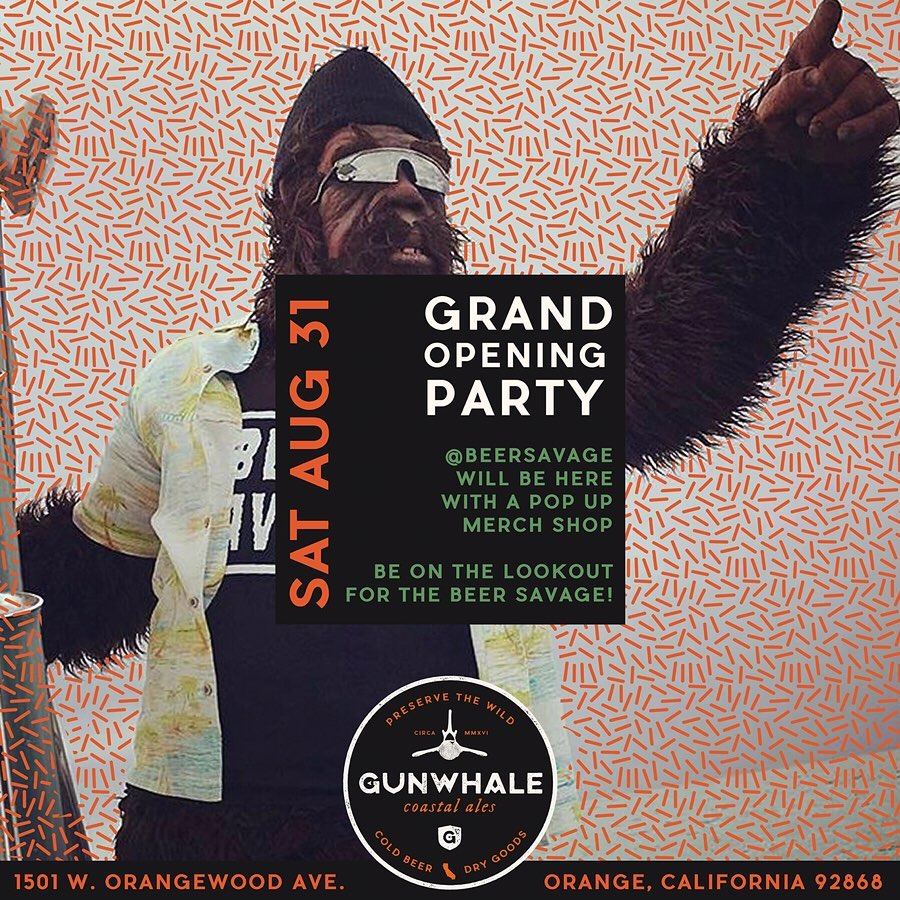 Gunwhale was founded by Justin Miller, JT Wallace, and Bobby Fitzgerald in late 2016, and this new facility will allow larger production and distribution for the growing brand (up to 12000 barrels per year), as well as push the edges of innovation with much more control over the brewing process. Head Brewer Kevin Hammons, a beer industry veteran and native to the City of Orange, continues to man the brew deck and oversee all brewing operations.
The new brewery will feature the unique beers Gunwhale has come to be known for: Bait Ball IPA and its rotating Hazy IPAs, accompanied by a continued focus on farmhouse style beers such as Hayshaker (GABF 2018 Bronze – Classic Saison) and The Fun Zone (Barrel Aged Mixed Fermentation Grisette).
The 9000 sq. ft. space features a 20 hectoliter brewing system, over 1000 sq. ft. of cold storage, a 24 tap draft system, and a 1200 sq. ft. outdoor beer garden. The taproom includes an authentic and relaxed design recalling vintage California, with Saltillo tiles, warm wood elements, rustic found objects, and wall-sized paintings and drawings by the Gunwhale team. The location has ample parking, and is proud to accommodate children and dogs. Weekly events, cultural happenings, and food trucks are also planned for the new taproom.
"A year in the works, we put a ton of passion and sweat into the delivery of this location. It is deep in us to offer the community a great place to meet, share and explore. And we are really excited about the 4 vessel brewhouse we acquired, which includes a decoction kettle, allowing us to process un-malted grains.  The system also includes a mash filter which allows for extremely high efficiency. This system turns in about 2 hours, uses less grain and water, and is much more sustainable. These type of kits are still relatively rare in the US," says Co-Founder Bobby Fitzgerald.
Gunwhale will continue to operate its first location in Costa Mesa as well, of which the team will transition its use for experimental beers, those with longer fermentations, as well barrel-aging and blending.
ABOUT GUNWHALE
Gunwhale Ales strike a balance between the raw, wild spirit of farmhouse brewing, and the pioneering hop forward styles of California. We have an obsession with yeast driven Saisons, aromatic, hoppy pale beers, and other rustic, wild and sour ales. This gives our beers uncommon qualities that are both surprisingly delicate and nuanced, yet refined and robust in their simplicity. From bright, billowy summer ales to rustic, fortifying stormers that stand up to the rougher seas, Gunwhale makes beers that reflect the culinary and cultural heritage of the West Coast.
For updates about events and beer releases, visit gunwhaleales.com or follow @gunwhaleales on Facebook, Instagram and Twitter. To request a media kit, please email [email protected].