Green Flash and Smartmouth Brewing Man Crush Saison Collaboration Released Today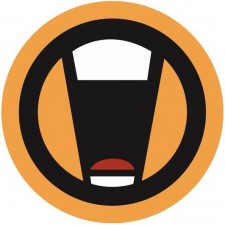 (Norfolk,VA) – As San Diego-based Green Flash Brewing Co prepares to break ground on their 2nd brewery in Virginia Beach, Brewmaster Chuck Silva has been building new friendships with like-minded breweries in the area. This is the first ever collaboration for Smartmouth and it is the first collaboration with a Virginia brewery for Green Flash. Smartmouth's Head Brewer, Greg Papp, warmly welcomed Chuck into their brew-house last month for a weeklong brew-session. The result of their union is Man Crush Saison, an outrageously hoppy twist on the Belgian classic. This exceptional beer is named in honor of Greg and Chuck's laid back and jovial approach to the collaborative process, and is a celebration of the spirit of the brewing community. Man Crush was developed and brewed in Norfolk at the Smartmouth facility and will be available in limited quantity beginning in April within the state of Virginia through Smartmouth distribution.
Man Crush Saison derives dominant citrus character from an array of hops including Azacca, Citra, and Mandarina Bavaria. The beer presents heady notes of citrus fruits and zesty orange flavors, complemented by a lingering peppery finish.
Greg and Chuck met last year at an industry conference and became fast friends. At the time, the San Diego brewery had just announced Virginia Beach would be the location for their east coast brewery. The brewers decided then and there they would collaborate on a beer made in Virginia at the Smartmouth facility.
One year later, Greg prepped for his brew-date with Chuck like any giddy brewer would – he caught a buzz on West Coast IPA and grew a bushy beard. The process was as easygoing as the beer is quaffable.
About Smartmouth Brewing Co.
Founded in 2012, Smartmouth Brewing Co. is dedicated to producing and perfecting authentic craft beer. Epiphany and barley were not-so-secret ingredients that led president Porter Hardy, who was a practicing attorney, to take Smartmouth from homebrew experimentation to one of the Southeast's most promising startup breweries. After years of bottled up dreaming finally came to a head, Porter traded his briefcase and corner office for pint glasses and tap handles. Now, with help from seasoned head brewer, Greg Papp, and a collection of like-minded investors and friends, Smartmouth is quickly being recognized with prestigious state and national awards for its quality beer.
In its first year and a half, Smartmouth has released 18 unique styles of beer: four of which are permanently on tap, two are seasonal, and the rest entail experiments intended to inspire the creativity of the brewing team and delight the palates of local craft mavens. Smartmouth is on the threshold of its largest expansion to date – packaged beer. This spring will see the introduction into supermarkets and craft beer stores of cans of their three flagship styles: Alter Ego Saison, Murphy's Law Amber and Rule G IPA. Until now, their beer has been available by draft only in bars, restaurants and the popular Smartmouth tasting room. Smartmouth takes great pride in its product and in the exceptional team that creates and sells it.
www.smartmouthbrewing.com – @smartmouthbeer – facebook
About Green Flash Brewing Co.
Green Flash Brewing Co. is located in San Diego, California, and was founded in 2002 by Mike and Lisa Hinkley. Brewmaster, Chuck Silva, leads brewing operations. Green Flash is an award-winning brewer of fine, hand-crafted ales, and specializes in brewing assertive and distinctive beers, such as the nationally acclaimed West Coast I.P.A.: an award-winning beer whose wide acceptance has helped define a category. Green Flash brews ten styles of beer regularly, on draught and in bottles as well as a growing lineup of seasonal and special offerings, including several barrel-aged beers, throughout the year.