Green Flash Expands Distribution to Michigan This Month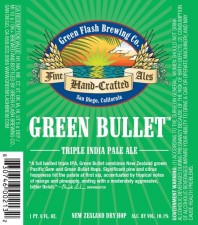 (San Diego, CA) – This month, Green Flash Brewing Co. has officially entered the state of Michigan with a series of kickoff events through October. The San Diego based craft brewery is teaming up withAlliance Beverage, Eastown Distributors and Powers Distributing to distribute and support the lineup of specialty craft beer throughout Michigan. With consumer demand for craft on the rise in the Great Lakes, the entire Green Flash portfolio including West Coast IPA ™, Hop Head Red™, Double Stout and all seasonal rotations including the recently released Green Bullet ™ (Triple IPA) will be available statewide in bottles and on draft. In addition, several Green Flash special and limited release offerings, including the popular Hop Odyssey series, will be available in the market to satisfy Michigan's thirst for bold, hop-forward craft beers.
Green Flash Brewing Co. was established in 2002 by the dynamic husband and wife team Mike and Lisa Hinkley, and is now one of the leading breweries in San Diego's thriving craft beer community. In 2004, renowned Brewmaster Chuck Silva joined the Green Flash team to develop the brand's lineup of signature brews including their West Cost IPA™, an award-winning beer that has helped define a category. The Green Flash lineup of premium, seasonal, collaborative and barrel-aged beers have found a niche in the craft beer market and the brand has a strong national following. With this month's entry into Michigan, Green Flash is now available in 44 states.
"Michigan has been on our radar for a few years. It is an outstanding beer market and home to some of the best craft breweries in the country", says Jim Kenny, Vice President of Sales at Green Flash. "Our primary concern before entering the state was supply. We wanted to make sure production could meet the market's demand. Now that I am confident that we can sufficiently supply Green Flash beer to Michigan, we are ready to rock n roll."
Each partner will support the Green Flash launch with ongoing kickoff events and ongoing activation in the on and off-premise, including guided tastings, concentrated sales training and a variety of consumer events.
"We have researched the market and selected strong distribution by partnering with three powerhouse craft distributors: Alliance Beverage, Eastown Distributing and Powers Distributing," says Kenny. Each distributor working with Green Flash is anticipating success, especially after the Green Flash team executed a handful of outstanding and well-received kickoff events as they jumped into the state last week. The initial launch will target key on and off-premise craft accounts in major metropolitan areas to showcase the Green Flash lineup. This will be backed by heavy display and point of sale activity as well ongoing events that will extend beyond the launch.
"During an exclusive launch event (held last week), the response from retailers and consumers was fantastic," exclaims Ron Runestad, Business Development Manager at Powers Distributing. "Some accounts ordered every packaged and draft beer available through 2014. The venue was buzzing with enthusiastic consumers and lively conversations about the different beer styles, how good they were, and about the exciting cooking & pairing possibilities."
The positive reception comes as no surprise, as Michigan drinkers are increasingly craft beer savvy. "Craft beer has a 4.9% share of the Michigan Market, up 24.7% in 2012, a pace continues to trend in 2013. The Michigan craft drinker loves hops, and the Green Flash portfolio fits in perfectly with the taste preferences of our consumers," says Paul Quasarano, President Eastown Distributors about Green Flash market entry. "The retailers are very excited about the launch, as well as the long term brand success"
In a market with no shortage of great local craft beer, Green Flash will be up against some healthy competition. Green Flash sees the market's existing craft beer community as a positive – citing the quality competition among one of the many reasons why Michigan is such an important market. "Alliance's craft portfolio is strategically skewed towards local Michigan and regional breweries," explains Alliance Beverage President, Shawn Gary. "However, we are always on the lookout for national brands that offer quality and distinctive beer styles that will lead to long-term incremental sales growth. The West Michigan market is known for producing and consuming bold beers, and that is why we are confident that this market will embrace the Green Flash quality portfolio."
About Green Flash Brewing Company: Green Flash Brewing Co. is located in San Diego, California, and was founded in 2002 by Mike and Lisa Hinkley. Brewmaster, Chuck Silva, leads brewing operations. Green Flash is an award-winning brewer of fine, hand-crafted ales, and specializes in brewing assertive and distinctive beers, such as the nationally acclaimed West Coast I.P.A.: an award-winning beer whose wide acceptance has helped define a category. Green Flash brews a variety of beer styles that are available on draft and in bottles as well as a growing lineup of seasonal and special offerings, including several barrel-aged beers, throughout the year. Learn more about Green Flash Brewing Co. by visiting www.greenflashbrew.com.
Alliance Beverage is a joint venture formed between Kent Beverage and B&B Distributing in 2013. Family owned and operated, Alliance Beverage services over 4,800 customers across the Western half of Michigan. With three distribution facilities and five sales offices our employees live in and are active in the communities they serve.
Eastown Distributors In 2013 Eastown Distributors celebrates 80 years of beer distribution in the Detroit area. In 2010 , a Specialty Beer Division was created to focus more closely on Eastown's craft beer and specialty import portfolio. Included in this division are three local breweries which continue to grow at rates far higher than the industry as a whole. Similar to the Eastown of the 1930's, product is picked up from the local brewery and delivered fresh to their retailers. With customer service and product quality as their top priority, Eastown continues to stay ahead of the industry.
Powers Distributing was started in 1939 and is owned and operated by company co-president's Robert and Gerald Powers. Currently, Powers Distributing has over 2600 retail accounts and 200 employees managing 85 brands through 30 different supplier relationships. Training is a key element to Powers sales success. All current and new sales employees are Certified Servers or Certified Cicerones.