Green Flash Brewing Rolls Out Cans Nation Wide
(San Diego, CA) –  This month, Co-Founder and CEO, Mike Hinkley of Green Flash Brewing Co. announces the national and year-round debut of three Green Flash beers in 12oz cans, as an extension of their existing packaged beer assortment. With orders shipping to all US distribution partners beginning in May, 6-packs of canned beers will hit store shelves in June. The new can offerings will include: Jibe Session IPA, Passion Fruit Kicker (a fruited American Wheat Ale), and Sea to Sea Zwickel Lager. Green Flash first introduced cans with Jibe Session IPA in September 2015, to an extremely limited distribution in only a few states. The reception from consumers was overwhelmingly positive, and they are now expanding their offerings and rolling out national distribution.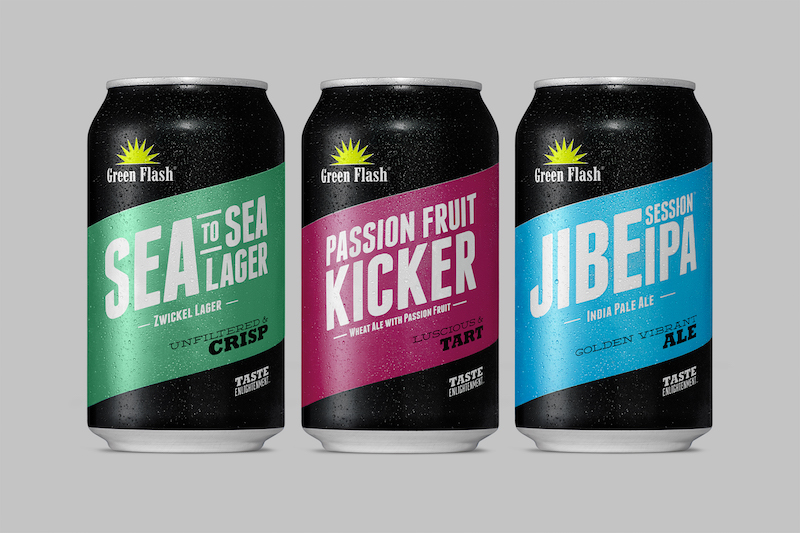 "Green Flash continues to evolve, learn and grow through our interactions with our customers," explains Mike Hinkley.  "Our biggest fans want to bring Green Flash with them to more and more occasions, and cans provide them that opportunity."
Green Flash plans to produce 18,000 cases in 2016, up from 2,000 cases in 2015. With limited canning abilities available, Green Flash estimates that cans will make up just 1% of the total packaged beer sold this year. A percentage that is expected to increase when they install a permanent canning solution. The three beers that Green Flash has chosen for the can program were selected for their winning flavor profiles and year-round drinkability. Jibe Session IPA will be positioned as a can-only offering. Available in both cans and bottles is a new 2016 release, Passion Fruit Kicker. This fruited American Wheat Ale is one of the bestselling new front-line beers in the Green Flash lineup and recently scored a Gold medal at the Los Angeles International Beer Competition. Making a can-only first time national debut is Sea to Sea – a Zwickel Lager that celebrates the brand's opening of the new Green Flash brewery in Virginia Beach, and brewing beer on both coasts by the end of the year.
The Green Flash canned beer lineup product overview is as follows:
Jibe Session IPA is navigating the brand into new hop territory. Well-balanced, floral, citrus and vibrant hop character defines our idea of what a perfect session ale should be. At 4% ABV, this session is so good, we are trimming our sails and riding the wind.
Passion Fruit Kicker is a jaw-dropping, mouth-watering, smooth brew with sweet, tart, fruity flavor. We layer passion fruit tea and passion fruit juice with wheat malt and 2-row malted barley to bring you this exhilarating crowd pleaser. 5.5% ABV
Sea to Sea is an unfiltered Zwickel lager layered with German Pilsner malts, Hallertau Mittelfreüh and Czech Saaz hops, 2-row barley, and traditional Pilsner yeast. This sessionable brew has a light body with subtle sweet malt and fruity hop flavors, notable lager yeast, and a crisp, clean finish. 4.0% ABV
In addition to the importance of cans affording craft beer fans even more occasions where they are able to enjoy Green Flash beer, Mike Hinkley has a personal connection to canning that makes the project even more meaningful.  He explains, "My father worked in aluminum can production plants for almost fifty years.  From the time I was a boy, I knew how to identify the markings on a can of Coke, Pepsi, or Budweiser, and be able to tell if my Dad made the cans.  I took a lot of pride in that. My Dad is retired now, but it is very cool to see my Dad drink Green Flash from a can."
Six-packs of Green Flash 12oz cans will begin shipping nationally from the brewery on May 9th, and consumers can expect to start seeing the Green Flash cans at retail in June.
About Green Flash Brewing Co. 
Green Flash Brewing Co. is located in San Diego, California, and was established in 2002 by co-founders Mike and Lisa Hinkley.  Brewmaster, Erik Jensen, leads brewing operations. Green Flash is an award-winning brewer of fine, craft ales, and specializes in brewing assertive and distinctive beers, such as nationally acclaimed West Coast I.P.A.: an award-winning beer whose wide acceptance has helped define a category.  Green Flash is available in bottles and on draft nationally – offerings include a growing lineup of seasonal and limited release ales, including several barrel-aged beers from their Cellar 3 series.  Please visit the Green Flash website www.greenflashbrew.com for more information.