Green Flash Brewing Announces Hop Odyssey 2015 Lineup
(San Diego, CA)- Known for crafting boldly hopped brews including West Coast IPA® and Palate Wrecker®, Green Flash Brewing Co. has successfully pushed the IBU envelope to achieve extreme hop flavor. This month, the brewery will kick off their 3rd annual Hop Odyssey series – a national beer program which focuses on exploring new hop varietals, fresh combinations and innovative brewing methods. This year's series is an in-depth look at Green Flash Brewmaster, Chuck Silva's intimate relationship with hops from farm to fermenter – showcasing Silva's approach to selection based on hop-provenance and terroir. Brewed with carefully selected, flavor-forward ingredients, Hop Odyssey 2015 is comprised of three Session IPAs that deliver an unmatched balance of complexity, each with an identical malt base to best highlight the flavors from the featured hops. Each is available for a limited time nationwide on tap and in bottles and is 4.5% ABV with 65 IBUs. By offering bold yet drinkable beers, Green Flash is elevating expectations within the session category, enticing craft beer lovers to embark on an epic journey of the senses with ales to go the distance.
"Through the Hop Odyssey series, we are able to introduce three exceptionally hoppy session ales into our 2015 product rotation," says Green Flash CEO and Co-Founder, Mike Hinkley. "Chuck is the master when it comes to hop selection. I am confident that this year's series will resonate with craft consumers who want a sessionable beers that have a flavor profile that's on par with some of the higher-gravity IPAs in our portfolio."
Each 2015 Hop Odyssey beer is built with an identical malt profile consisting of a simple, golden, 5 SRM grist of Premium Pale 2-row, Vienna malt, Marris Otter, and British Crystal to allow the flavor of the hops to dominate.
 "This year, we wanted to really explore the range of flavor that is achievable in a session ale through careful and deliberate selection of bold hop varietals," explains Green Flash Brewmaster, Chuck Silva.  "By building solid relationships over the years with hop growers, I was able to get my hands on the best product available from the 2014 harvest and build a recipe for three solid session beers that I think even the most die-hard hop heads will enjoy as much as I do."
HOP ODYSSEY 2015 LINEUP
Mosaic Session IPA
Available from March through June, the first 2015 Series release is Mosaic Session IPA. This bold hop has notable characteristics from its parentage of Simcoe and Nugget hops, but Mosaic creates a unique and complex floral, tropical and fruity blend with earthy characteristics. Mosaic also imparts blueberry and other dark berry notes to the beer.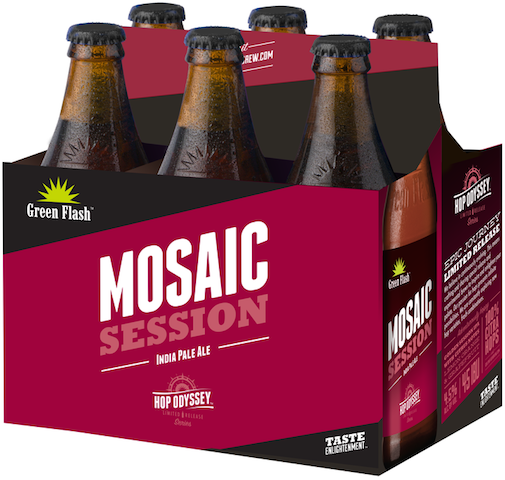 Citra Session IPA
Releasing in July and available through October, Citra Session IPA initially debuted in late summer, 2013 and is the only Hop Odyssey beer that has been included in each year's unique lineup due to its widespread popularity that has set a precedent for the category. 100% Citra® brand hops are introduced throughout the brewing process to impart intense flavors of orange, lemon and grapefruit that transcend the inherent tropical and floral notes. The result is a remarkable and refreshing brew that has since sparked many memorable sessions.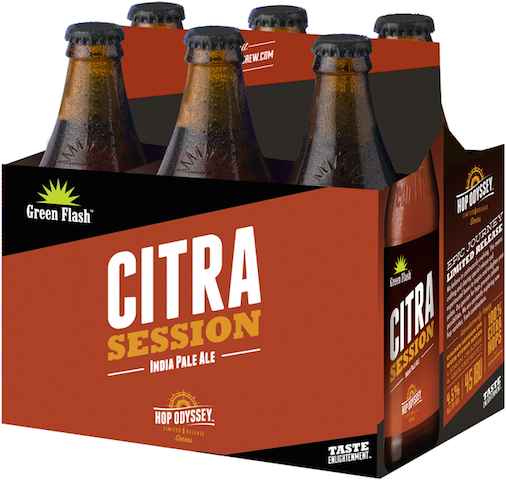 Segal Ranch Session IPA
Using single-estate hops, hand-selected by Brewmaster Chuck Silva from Segal Ranch in Yakima, Washington, Segal Ranch Session IPA features Tomahawk, Centennial and Cascade. The verdant pungency and citrus aromatics from the Tomahawk hops serve as the perfect base layer to allow the flavors of bright floral and pine sap and floral from Centennial hops to emerge on the palate. Notes of resinous citrus from Segal Ranch Cascade hops shine through the finish. Segal Ranch will be available beginning in November through the end of the year.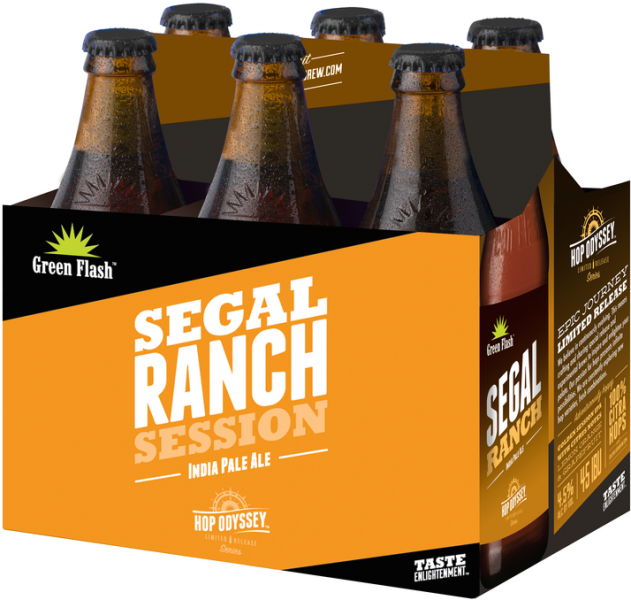 All three Hop Odyssey releases will be available in session-appropriate six-packs in select cities on the West Coast as well as in Virginia State. The entire series will be available in 50 US states on draft and in 22oz bottles, wherever Green Flash beers are sold.  
About Green Flash Brewing Co. 
Green Flash Brewing Co. is located in San Diego, California, and was founded in 2002 by Mike and Lisa Hinkley.  Brewmaster, Chuck Silva, leads brewing operations. Green Flash is an award-winning brewer of fine, hand-crafted ales, and specializes in brewing assertive and distinctive beers, such as the nationally acclaimed West Coast I.P.A.: an award-winning beer whose wide acceptance has helped define a category.  Green Flash is available in bottles and on draft nationally – offerings include a growing lineup of seasonal and limited release ales, including several barrel-aged beers.  Please visit the Green Flash website www.greenflashbrew.com for more information.