Grand Teton Releases The Black Cauldron Imperial Stout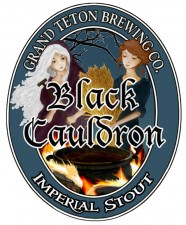 Grand Teton Brewing Company Releases Winter Brew In Seasonal Program. Black Cauldron Imperial Stout will be the second release of Grand Teton Brewing's bi-annual seasonal beers.
Victor, ID – Grand Teton Brewing Company, known throughout the West for their exceptional microbrews, will begin shipping Black Cauldron Imperial Stout mid-November as the second of their two seasonal beers.  Black Cauldron will be available from November through the end of March.  From April through the end of September, Grand Teton Brewing will continue to offer Lost Continent Double IPA.  Both brews are available in uniquely designed 4-packs (12oz bottles) and in 1/2-Bbl and 1/6-Bbl kegs.
There are few styles of beer more flavorful than Imperial Stout. Our thick, rich version was brewed with plenty of caramel and roasted malts and subtly spiced with American Chinook and Styrian Goldings hops. We've accentuated the natural smokiness of the brew by adding a small amount of beechwood-smoked malt. At 22 degrees starting gravity and 8.0% alcohol by volume, this beer boasts flavors of chocolate and coffee, along with raisins and dried fruit soaked in sherry.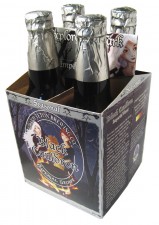 Black Cauldron is a strong ale, best enjoyed in moderation, and paired with full-flavored grilled or roasted meats or with dessert.  Chocolate cakes, truffles, fruit tarts, caramel flan or creme brulee are all excellent matches.
We've brewed our Black Cauldron Imperial Stout to recognize and honor the women in the history of brewing.  Brewing has been women's work since the dawn of civilization.  In all ancient cultures, beer was a gift from a goddess, and women maintained status and power through their skills as brewsters.  This remains true today in indigenous cultures from Asia to Latin America, Africa to remote villages in Scandinavia.  Around the world, women baked bread and brewed their own beer.
In Europe, the rise of cities brought commercial brewing, as governments realized the potential tax revenue to be had from large breweries.  By 1445, the first all-male brewers' guild was established, the campaign against witchcraft burst forth across Europe, and the purge of women from brewing had begun.  Beer historian Alan Eames has written that, when an occupation was listed, most of the women burned for witchcraft in Europe were brewsters or alewives.
Most of the imagery we associate with witchcraft today originated with the brewster.  The large black cauldron bubbling over with foam?  A brew kettle, of course.  The black cat?  Necessary to keep rats out of the grain store.  The tall pointed hat?  It allowed the brewster to be seen over the heads of taller men in the marketplace.  A broom?  The symbol of household domesticity, it is still associated with brewing all over the world.
Without the work of these women through the ages, it's entirely possible beer would not exist today.  To learn more about the role of women in today's brewing industry, visit www.pinkbootssociety.org.  For more on the history of brewing, www.grandtetonbrewing.com.
Both the Black Cauldron and Lost Continent beers were born from the renowned Cellar Reserve Program.  Over the last 6 years, these have been the most popular of the Cellar Reserves, with numerous requests from bars, retail stores and fans. Both beers are high gravity and bottle and keg-conditioned.  Conditioning creates a smooth, creamy head, fine layer of yeast at the bottom and exceptionally long shelf life.  For simplicity of shelf placing and register sales, both 4-packs will have the same UPC.
Be on the lookout for Lost Continent returning this April. For information on either brew or the seasonal program, call the brewery at 1-888-899-1656 or contact your local Grand Teton Brewing distributor.
Grand Teton Brewing Company was founded in 1988 as the first modern "micro" brewery in the state of Wyoming. Today, Grand Teton Brewing Company is in the top 100 craft breweries in North America. Premium microbrews include the 5X gold-medal-winning Bitch Creek ESB, Sweetgrass IPA, Workhorse Wheat and the favorites of the Yellowstone and Grand Teton National Parks, Old Faithful Ale (pale golden), Au Naturale (organic blonde ale) and Teton Ale (amber). From their production facility in Victor, Idaho, Grand Teton Brewing Company beers are hand-crafted from only the finest ingredients, including locally-grown grains and pure Teton mountain spring water.  GTBC is a green company utilizing bio-diesel and feeding local farmer's cattle with spent grain from the brew house.  Discriminating beer drinkers can find their favorite GTBC brews on tap and in bottles throughout Idaho, Wyoming, Montana, Utah, California, Colorado, Oregon, Washington, Minnesota, Wisconsin, Arizona, Nevada, Kansas, New York and Missouri.