Grand Teton Brings Back Double Vision Doppelbock for 2013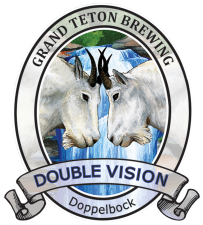 VICTOR, ID – Grand Teton Brewing, known throughout the West for their exceptional craft brews, is proud to announce the release of Double Vision Doppelbock. As part of its Cellar Reserve Series, Grand Teton Brewing has been brewing bold, flavorful beers and serving them from large, beautiful bottles since March 2004. 2013 marks the 25th anniversary of Grand Teton Brewing. In celebration, they're bringing back three of their favorite styles for this year's Cellar Reserve Series. Double Vision Doppelbock was first brewed in 2009 to highlight the brewery's wonderful water. This January 15th, please welcome back the Double Vision to the 2013 Cellar Reserve Series.
The story behind the dopplebock style starts in the 17th century where Paulist monks of Munich were allowed no solid food during their bi-annual fasts. They brewed an especially nourishing strong dark lager they called "liquid bread" and named "Holy Father" to help them through the Lenten and Advent fasts. The beer was known as a doppelbock, which signifies a strong lager. Since "bock" also means "billy goat" in German, these beers are often decorated with images of gallivanting goats. Our Double Vision label features two goats in front of a waterfall—a reminder of the importance of water in the development of the style as well as the taste of this strong lager.
Double Vision's slightly burnt caramel flavor and malt sweetness make it an incredible match for game—venison, moose, duck, goose, and wild boar—especially when prepared with fruity sauces or reductions. Try it with pork and sautéed apples, roasted root vegetables, sweet sausages, ham or prosciutto. It's wonderful with cheese and dessert; pair it with an aged Gruyère, a caramel flan, or a crème brulee.
ABV: 8% IBUs: 40 Color: 47° Lovibond Original Gravity: 22°
Grand Teton Brewing was founded in 1988 as the first modern "micro" brewery in the state of Wyoming. Their premium microbrews include the 13x gold-medal-winning Bitch Creek ESB, the 2009 Great American Beer Festival Gold Medal Winner (American Pale Ale) Sweetgrass APA and the favorites of the Yellowstone and Grand Teton National Parks; Old Faithful Ale (pale golden), Howling Wolf Weisse Bier (hefeweizen) and Teton Ale (amber). From their
production facility in Victor, Idaho, Grand Teton Brewing beers are handcrafted from only the finest ingredients, including locally-grown grains and pure Teton mountain spring water. Grand Teton Brewing is a green company utilizing environmentally conscious and sustainable practices whenever possible. Grand Teton Brewing is also the inventor of the modern glass growler, which is estimated to save a significant bottles and cans from entering the ecosystem every year. Discriminating beer drinkers can find their favorite Grand Teton Brewing brews on tap and in bottles throughout California, Colorado, Idaho, Illinois, Kansas, Minnesota, Missouri, Montana, Nevada, North Dakota, South Carolina, South Dakota, Washington, Wisconsin and Wyoming.