Grand Teton Brewing Co. Releases New Brew: XX Bitch Creek Double ESB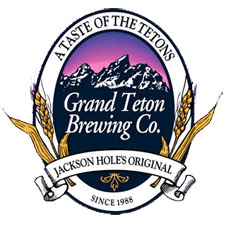 GRAND TETON BREWING COMPANY INTRODUCES A NEW BREW
XX Bitch Creek Double ESB is the final release of Grand Teton Brewing's 20th anniversary commemorative "Cellar Reserve" beers.
VICTOR, ID — Grand Teton Brewing Company, known throughout the West for their exceptional microbrews, has introduced XX Bitch Creek Double ESB, the latest in their "Cellar Reserve" series of specialty beers. XX Bitch Creek Double ESB will be available in kegs and 1 liter, flip-top bottles.
Twenty years ago Charlie Otto began making beer in Wyoming's first modern brewery, a 210 square foot cabin in Jackson Hole. Since then, Grand Teton Brewing Company has grown into its present 11,000 square foot facility in Victor, Idaho, winning dozens of major awards and bringing innovations like the reusable glass growler to the brewing world.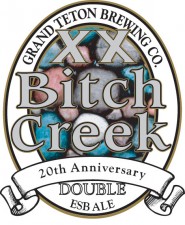 To commemorate that twenty-year history, Grand Teton's brewers have chosen four of their year-round beers—three current, one historical—to strengthen and enhance. XX Bitch Creek Double ESB is the final release in their 2008 XX series.
Bitch Creek ESB, first brewed in 2003, perfectly balances big malt sweetness and robust hop flavor for a full-bodied mahogany ale. It has quickly become their best-selling beer, as well as their most-critically acclaimed, having won medals–including two golds— at three out the past four Great American Beer Festivals.
XX Bitch Creek Double ESB is all that and more. Grand Teton took the Bitch Creek recipe and doubled everything: double the malt, double the hops, twice the flavor. This is a huge beer at 7.5% alcohol by volume, which should be paired with only the most flavorful of foods. Try it with the best steaks, game meats and hearty stews, or with a nice cave-aged Gouda.
The Cellar Reserve series of beers are unique beers, different even from other craft beers. Grand Teton's Cellar Reserves are brewed with specialty grains and more unusual ingredients than most micro brewed beers. Most ales and lagers are produced in 2-4 weeks. However, 3 to 8 months are spent on each of the Cellar Reserve specialty brews. They are also bottle and cask conditioned, which produces natural carbonation and will blend and smooth the flavors with age. These beers have a long shelf life and don't have to be rapidly consumed. Proper aging of these bottles creates beers to be cherished.
Grand Teton Brewing releases four or five different beers a year in the Cellar Reserve line. The production quantity is very limited. The XX Bitch Creek Double ESB is available in kegs and unique brown one-liter bottles, with captivating silver and gold labels. Each bottle has a flip-top and wire bale lid that has been sealed in colored wax.
The XX Bitch Creek Double ESB are available now at select locations in Idaho, Wyoming, Colorado, California, Oregon, Montana, Washington, New York and now Arizona, Wisconsin, Kansas and Missouri! Call the brewery at 1-888-899-1656 for information and availability on this exciting new product.
Grand Teton Brewing Company was founded in 1988 as the first modern "micro" brewery in the state of Wyoming. Today, founder Charlie Otto and his company are in the top 100 craft breweries in North America. Premium microbrews include the 2X gold-medal-winning Bitch Creek ESB, Sweetgrass IPA, Workhorse Wheat and the favorites of the Yellowstone and Grand Teton National Parks, Old Faithful Ale (pale golden), Au Naturale (organic blonde ale) and Teton Ale (amber). From their production facility in Victor, Idaho, Grand Teton Brewing Company beers are hand-crafted from only the finest ingredients, including locally-grown grains and pure Teton mountain spring water. GTBC is a green company utilizing bio-diesel and feeding local farmer's cattle with spent grain from the brew kettle. Discriminating beer drinkers can find their favorite GTBC brews on tap and in bottles throughout Idaho, Wyoming, Montana, Utah, California, Colorado, Oregon, Washington and now Wisconsin, Arizona, Kansas, New York and Missouri.