Funky Buddha Maple Bacon Coffee Porter
From Funky Buddha Brewery – Evoking a complete diner-style breakfast in a glass, Maple Bacon Coffee Porter is a complex beer with a multitude of flavors at work. It pours an opaque, ebony brew with a frothy tan head. Aromas of sticky maple syrup and fresh-brewed coffee creep forth from the glass. The mouth feel is luxuriously creamy, with layers of sweet malt and roast giving way to waves of smoke, coffee, and dark salted chocolate. The finish is sticky, rich, and sweet, with flavors of maple syrup lingering pleasantly on the tongue.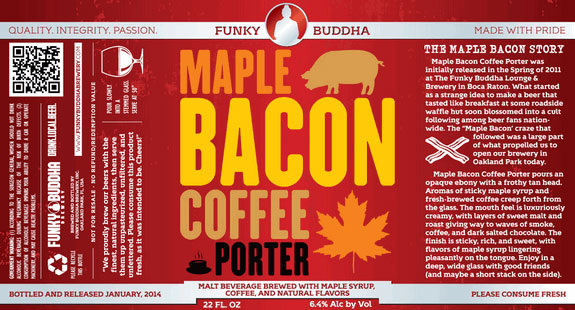 Funky Buddha Brewery – Funky Buddha Maple Bacon Coffee Porter – 22 oz. bottle poured into a goblet. 6.3% abv.
Appearance:  Pours near black with a creamy khaki head.
Aroma:  Sweet prepared coffee, maple sugar, a fucking diner.
Taste:  Diner coffee, maple sugar, milk chocolate and a kiss of smoke.
Mouthfeel:  Full bodied, fluffy, active carbonation.
Overall: This beer is exactly as advertised, which gets many points from me. If you're going to put it in the name of the beer, it better taste like it!  With that said, it's a bit to sweet for continuous servings. All har har's aside, you should pair this with a hearty breakfast or brunch.