Funky Buddha Launches in Orlando With Series of Events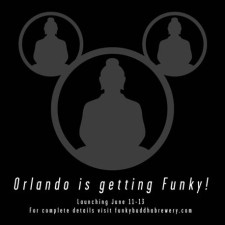 Oakland Park, FL – Get ready, Central Florida – Funky Buddha is officially launching in Orlando on June 11!
Now you'll be able to drink our beer in the greater Orlando area year-round. We'll be hosting a series of events that week at area bars and restaurants to celebrate. Details on those events are listed below, as well as where you can find our beer in central Florida.
About Funky Buddha Brewery
Founded in 2010 in Boca Raton, Florida, Funky Buddha Brewery is committed to producing bold craft beers that marry culinary-inspired ingredients with time-honored technique. Its lineup includes year-round brews Floridian Hefeweizen and Hop Gun IPA, along with specialty releases such as No Crusts Peanut Butter and Jelly Brown Ale and the highly sought after Maple Bacon Coffee Porter. In December, 2013, Funky Buddha was hailed as one of the top 20 breweries to visit in the country by USA Today, and named as a Top 100 brewery in the World by the 2014 Rate Beer Best. Its Oakland Park production brewery opened in June 2013 and is currently the largest brewery in South Florida, with over 450 restaurants and bars featuring its beer on draft.
Launch Events
Redlight Redlight Happy Hour
June 11, 5pm
Redlight Redlight, Orlando
Tap Enlightenment at Tap and Grind Orlando
June 11, 7pm
Tap and Grind, Orlando
Pint Night
June 12, 5pm
World of Beer UCF
Funky Pairing at Smiling Bison Orlando
June 12, 5pm
Smiling Bison
Happy Hour at Whole Foods Dr. Phillips
June 13, 4pm
Whole Foods Dr. Phillips
Tap Invasion
June 13, 7pm
World of Beer Dr. Phillips
On Draft
Find our beers on draft in the following locations:
Tap and Grind
59 W Central Blvd, Orlando, FL 32801
(407) 455-1100
Whole Foods Orlando
8003 Turkey Lake Rd, Orlando, FL 32819
(407) 355-7100
World of Beer Dr. Phillips
7800 Dr Phillips Blvd, Orlando, FL 32819
(407) 355-3315
World of Beer UCF
3402 Technological Avenue, Orlando, FL 32817
(321) 235-9741
Yardhouse International Drive
8367 International Drive, Orlando, FL 32819
(407) 351-8220
Lazy Moon Pizza
11551 University Blvd, Orlando, FL 32817
(407) 658-2396
Public House
12046 Collegiate Way, Orlando, Florida 32817
(407) 658-0888
Mellow Mushroom Winter Park
2015 Aloma Ave, Winter Park, FL 32792
(407) 657-7755
Thirsty Topher
1609 Alden Rd., Orlando, FL 32803
(407) 491-4342
Franks & Steins
150 S Magnolia Ave, Orlando, FL 32801
(407) 412-9230
Oblivion Tap Room
5101 E Colonial Drive, Orlando, FL 32803
(407) 802-4800
Redlight Redlight
2810 Corrine Dr, Orlando, FL 32803
(407) 893-9832
The Smiling Bison
745 Bennet Rd, Orlando, FL 32803
(407) 898-8580
East End Market
3201 Corrine Dr., Orlando, FL 32803
(321) 236-3316
Royal Pacific Orlando
6300 Hollywood Way, Orlando, FL 32819
(407) 503-3000
Hilton Orlando Resort
6001 Destination Pkwy, Orlando, FL 32819
(407) 313-4300
The Mansion
1218 E New Haven Ave, Melbourne, FL 32901
(321) 345-5800
Anthony's Coal Fired Pizza Orlando
Phillips Crossing 8031 Turkey Lake Rd #300, Orlando, FL 32819
(407) 363-9466
Anthony's Coal Fired Pizza Altamonte Springs
420 East Altamonte Drive, Altamonte Springs, FL 32701
(407) 260-2625