Full Tilt Brewing Berger Cookie Chocolate Stout Re-release
Canton, Baltimore, Maryland – FULL TILT BREWING is set to re-release their popular offering, Berger Cookie Chocolate Stout. While still at 6% ABV and using the same ingredients as the original offering, the recipe has been altered slightly to provide for a smoother, sweeter finish. This beer launch event is open to the public.
FULL TILT BREWING (FTB), Baltimore's newest craft beer producer, is excited to announce this year's latest addition, Berger Cookie Chocolate Stout, a Sweet Stout brewed with Baltimore's most iconic fudge cookie. Their re-release to the ever growing craft beer market will take place on Friday, November 7th at Smaltimore in the heart of Canton located at 2522 Fait Ave., Baltimore, MD 21224.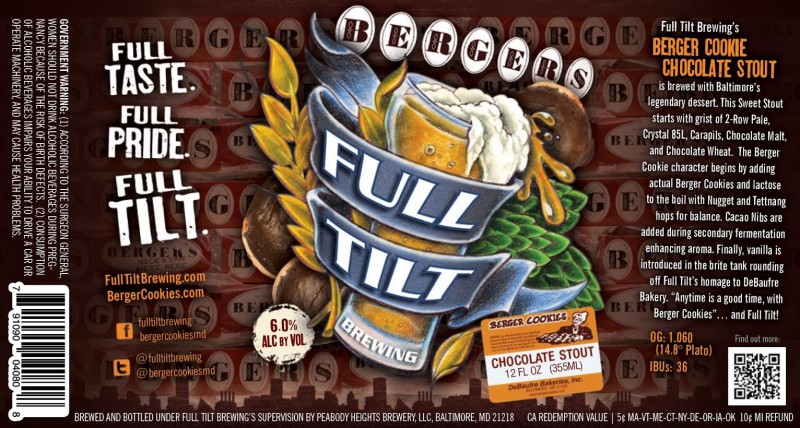 Four other FTB brews will be on tap all day with drink specials and the pouring / toast of the first pint of Berger Cookie Chocolate Stout taking place at 7:00 pm sharp. FTB drafts will be served at $4-5 from 7pm until close with special edition Berger Cookie / Full Tilt pint glasses being given away to take home with patron's first Berger draft while supplies last! In addition to the Berger beer on draft, Smaltimore will also have four of FTB's other drafts: Baltimore Pale, Fully Tilted Baltimore Pale Ale, Hop Harbor, and Patterson Pumpkin fluctuating in price from $4-5 as dictated by Smaltimore's unique Beer Stock Exchange.
Full Tilt Brewing's Berger Cookie Chocolate Stout is brewed with Baltimore's legendary dessert. This Sweet Stout starts with grist of 2-Row Pale, Crystal 85L, Carapils, Chocolate Malt, and Chocolate Wheat. The Berger Cookie character begins by adding actual Berger Cookies and lactose to the boil with Nugget and Tettnang hops for balance. Cacao Nibs are added during secondary fermentation enhancing aroma. Finally, vanilla is introduced in the brite tank rounding off Full Tilt's homage to DeBaufre Bakery. "Anytime is a good time, with Berger Cookies"… and Full Tilt!
Also notable on Friday is Smaltimore's delicious sushi offered at 2 for 1 rolls from 5-7pm as well as Full Tilt Brewing Co-Owner, Nick Fertig's, personal favorite: The Spicy Chicken Sandwich.
FULL TILT BREWING comes from the background of not-cutting corners as its owners are passionate about every aspect of what they do. As it states on the opening page of their website, "Why do something half assed when you can do it full tilt?" and "Never slow down, never settle for less, and never be content with anything other than the best." This newest addition to the FTB line of brews continues that mantra.
www.fulltiltbrewing.com – @FullTiltBrewing – facebook
The owners of FULL TILT BREWING will debut their newest offering at a keg tapping ceremony Friday, November 7th at 7pm at Smaltimore in the heart of the Canton neighborhood located at 2522 Fait Ave., Baltimore, MD 21224.
www.smaltimorebaltimore.com – @SmaltimoreMD – facebook