Full Sail Releases LTD 07 Oktoberfest Lager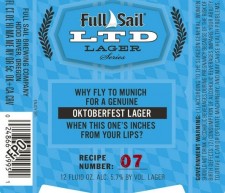 (Hood River, OR) – Why fly to Munich for a genuine Oktoberfest Lager when this one could be inches from your lips?  The newest addition to Full Sail's Limited Lager Series (LTD), Oktoberfest is the seventh recipe in the LTD line-up. Although it's new to the LTD series, the recipe is a Full Sail classic originally brewed back in the 1990s. "At Full Sail we love our lager beers! As Oregon's largest brewer of lager craft beer styles, we are thrilled to bring back one of our favorite recipes. This award-winning beer garnered 3 consecutive gold medals at the World Beer Championships in 1997, 1998 and 1999," said Jamie Emmerson, Full Sail's Executive Brewmaster. Brewed especially for Oktoberfest season, six-packs and kegs will be available for the month of September in limited quantities.
Full Sail's Oktoberfest is a smooth, malty lager brewed in the true Bavarian style, using Two-row Pale, Vienna, Caramel and imported roasted Munich malts, and then moderately hopped with imported Czech Saaz and Yakima Sterling hops. With flavors reminiscent of honey, nougat and roasted nuts, it's complex and beautifully balanced. Prosit! ABV 5.7% IBU 26
LTD means limited edition, but according to Full Sail's CEO & Founder Irene Firmat, it means something even more: Live the Dream. "We've been living out our dream: brewing beer, our own way, in one of the most beautiful places on earth. We dedicate our LTD Series to everyone who's living the dream, whatever that dream might be. Our LTD Series is a great way to offer our customers a distinctive series of small batch lager beers that celebrate our creativity and honor the rich brewing heritage of great lager beer styles. Each LTD beer showcases an original lager recipe and is only available for a limited time. It lets us explore some of our favorite beer styles and we are thrilled at the response we have generated. Not only do our fans love this series, critics love it too. Since its release in 2006, our LTD Series has brought home 13 gold medals from the World Beer Championships and one from the North American Beer Awards. And on top of that, five of them were named 'The Best Beers of 2009, 2010, 2011 and 2012,'"added Firmat.  The next beer in Full Sail's LTD Lager Series is Black Bock (LTD 06) which will be released for the holiday season in six-packs and draft.
About Full Sail Brewing Company:
The independent and employee-owned Full Sail Brewery is perched on a bluff in Hood River, Oregon, overlooking the most epic wind and kite surfing spot in the world. At this very moment our specialists in the liquid refreshment arts are crafting barley and hops into your next beer. Among the company's most popular brews are Full Sail Amber, IPA, Limited Lager Series, Pub Ale Series, Session Premium, Session Black, and Session Fest lager. Founded in 1987, the Full Sail crew has been fermenting godlike nectar for 26 years.  Committed to brewing great beer and sustainable practices, their award winning brews are now available in 31 states. The Full Sail Tasting Room and Pub is open seven days a week. Swing by for a pint, grab a bite, tour the brewery, or just soak up the view.
Website; http://www.fullsailbrewing.com
Facebook: https://www.facebook.com/pages/Full-Sail-Brewing-Company/60072986984
Twitter: https://twitter.com/FullSailBrewing
Instagram: http://instagram.com/fullsailbrewing#
Vimeo: http://vimeo.com/user1845072