Full Sail Expands to Northeast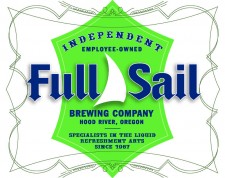 Hood River, Oregon – Full Sail Brewing Company, renown for their internationally award-winning beers, has announced that they have expanded distribution to additional markets in New York, New Jersey, Maryland, Massachusetts, Rhode Island and New Hampshire in partnership with L. Knife & Son Companies.
"We are very proud to enter the northeast markets with such a strong distributor partner. L. Knife has had a long term commitment to craft beer and has a deep understanding of how to go to market with our beers. We are excited about bringing our world class beers to such discerning customers, and as a native New Yorker I am thrilled that after 23 years Full Sail will finally be available in these markets," said Irene Firmat, Full Sail's Founder and CEO.
"Full Sail partnered with L. Knife's Specialty Beverage division in 2009 in the state of Virginia. It was through this exceptional business relationship that we appreciated the professionalism and attention to our brands L. Knife & Son could provide. We are extremely confident in the L. Knife organization and how they will represent Full Sail in these very important markets," added Robert Lauron, Full Sail's Vice President.  According to Lauron, the new network will represent all of the Full Sail brands and will provide statewide distribution in each state.
"L. Knife's leadership team is thrilled to establish this partnership with such a revered brewery with parallel company values," Tim Sheehan, L. Knife's CEO, stated.
"We're committed to continuing Full Sail's proud tradition of excellence as we build a long term relationship as its east coast wholesaler in several key markets. Our 500+ sales team members have been methodically planning a major east coast launch for Full Sail that will establish a strong foundation for continued growth on the east coast," adds Michael Brazel, VP of Sales and Marketing for the L. Knife & Son Companies.
L. Knife & Sons' Marketing Director Eric McKay adds, "To supplement the work of our sales force, GreatBrewers.com and our BeerCloud mobile app for iPhone and Android will keep hundreds of thousands of consumers in our markets informed of the numerous Full Sail launch events, and will direct to the bars, restaurants, and beer stores that start carrying Full Sail's beers."
Following Full Sail's successful launch in Virginia by Richmond-based Specialty Beverage, the Company has established distribution partnerships with all eleven of L. Knife's east coast operations.  Full Sail will distribute through Legends Ltd. in Maryland and Washington, D.C., Hunterdon Distributors in New Jersey, Union Beer Distributors in the NYC metropolitan area, Tri-Valley Beverage and T.J. Sheehan Distributing in upstate New York, Seaboard Products, L. Knife & Son and Craft Brewers Guild of Boston in Massachusetts, Craft Beer Guild of NH in New Hampshire, and Craft Beer Guild of RI in Rhode Island.  For their strong portfolio balance, their outstanding sales execution and their innovative approach to marketing, the L. Knife & Son Companies were recognized by Beverage World as the 2010 Beverage Wholesaler of the Year.
About Full Sail Brewing Company:
The independent and employee-owned Full Sail Brewery is perched on a bluff in Hood River, Oregon, overlooking the most epic wind and kite surfing spot in the world. At this very moment 47 specialists in the liquid refreshment arts are crafting barley and hops into your next beer.  Among the company's most popular brews are Full Sail Amber, IPA, Pale, LTD, Session and Session Black Premium lager. Founded in 1987, the Full Sail crew has been fermenting godlike nectar for 23 years.  Committed to brewing great beer and sustainable practices their award winning brews are now available in 27 states. The Full Sail Tasting Room and Pub is open seven days a week. Swing by for a pint, grab a bite, tour the brewery, or just soak up the view.  http://www.fullsailbrewing.com