Full Sail ESB Added to Rotating Pub Series Lineup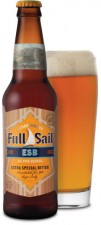 Hood River, OR – Full Sail Brewing has just announced the release of the next beer in their new rotating line of classic ales called the Pub Series. The second beer in the series, Extra Special Bitter (ESB) is a medium-bodied ale with caramel complexity and a crisp hoppy finish. This new series features ales that had only previously been available at Full Sail's Tasting Room & Pub.
"For as anyone lucky enough to stop for a pint at our Pub in Hood River, Oregon, knows it's a spectacular place to share a beer with friends. The Full Sail Pub Series captures that experience in a bottle and lets you share it with all your friends. Each selection will be available for only 90 days before the next gets its turn to shine. Just like each epic season in the Gorge," said Irene Firmat, Full Sail Brewing's Founder and CEO.
"The telltale signs of spring arrive in the Gorge as mountain bikers begin to replace snowboarders, the snow melt feeds the rivers, and white water rafters and kayakers anticipate the first runs of the year. Flowers cover the mountain meadows and blooms fill the orchards in the valley. Full Sail ESB will be just the right beer to welcome spring in the Gorge. It's a traditional ale brewed with attention to balance, highlighting both malt and hops. A combination of crystal malts gives this beer its orange hue and caramel complexities. UK and US Challenger hops were used exclusively throughout. Aromas of dry caramel and herbs are followed by a malty, medium-bodied palate finishing with caramel flavors and a crisp bitterness," said Jamie Emmerson, Full Sail Brewing's Executive Brewmaster. ESB is available in 6-packs and on draft for 90 days only from April to June when the next beer in the series will be released. ABV 6.5% IBU 35
About Full Sail Brewing Company:
The independent and employee-owned Full Sail Brewery is perched on a bluff in Hood River, Oregon, overlooking the most epic wind and kite surfing spot in the world. At this very moment our specialists in the liquid refreshment arts are crafting barley and hops into your next beer. Among the company's most popular brews are Full Sail Amber, IPA, Limited Lager Series, Pub Ale Series, Session Premium, Session Black, and Session Fest lager. Founded in 1987, the Full Sail crew has been fermenting godlike nectar for 25 years. Committed to brewing great beer and sustainable practices, their award winning brews are now available in 30 states. The Full Sail Tasting Room and Pub is open seven days a week. Swing by for a pint, grab a bite, tour the brewery, or just soak up the view. http://www.fullsailbrewing.com