Full Sail Celebrates American Craft Beer Week With Allman's All Mild Release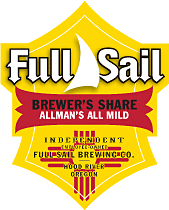 Hood River, Oregon –   To celebrate American Craft Beer Week (May 14-20th),  Full Sail Brewing will release a new beer in their Brewer's Share Experimental line up: "Allman's All Mild" crafted by Lead Lab Technician Joshua Allman. Inspired by traditional English mild style beers he found in London pubs in his early 20s, Joshua wanted to honor his English heritage and those fond memories by brewing his own mild style ale.
Allman's All Mild is a beautiful light copper colored English Mild Ale, using a blend of 2-row Pale, Munich, English crystal and brown malts that provide a toasty biscuit character and a dry and balanced finish. Golding and Willamette hops impart an herbal aroma and subtle hop finish that complements the malt complexity. The ale's low carbonation delivers an incredibly refreshing and light beer perfect for summertime enjoyment. ABV 4.1% IBU 25
"Coming from English heritage, I was very excited to brew this easy drinking and sessionable ale for Full Sail," says Joshua. "This is a great beer for the warm and sunny days ahead, and a beer that you can enjoy pint after pint with friends. I selected English malts that provide the flavor I remember fondly from that first pint in London. I hope you all enjoy the simple beauty of this Old World brew. Cheers!"
Full Sail has scheduled two "Meet the Brewer and the Beer" events to showcase this new beer. The first Meet Brewer and the Beer event will be at Full Sail at Riverplace in Portland, Tuesday, May 15th, from 5:00 – 6:30PM. The second is at the Full Sail Tasting Room and Pub in Hood River, on Thursday, May 17th from 5:00 to 6:30PM. Join the Full Sail crew to celebrate and toast a pint of this new brew.
With each Brewer's Share series beer, Full Sail picks a local charity to receive a portion of the proceeds from the sale of the beer. Joshua has chosen to support the Columbia Gorge Ecology Institute, so every keg of Allman's All Mild benefits this organization whose mission is to create life-long learning opportunities that foster a sense of wonder and community stewardship in the natural systems of the Columbia River Gorge.
The Brewer's Share Experimental series is a line-up of small batch draft beers where each Full Sail brewer takes a turn hand-crafting their own single batch recipe. A portion of the proceeds benefit a local charity or organization of their choice. Full Sail's Brewer's Share Experimental beers will only be available on tap at Full Sail's Tasting Room and Pub in Hood River, Oregon, and at Full Sail's Brewery at Riverplace, in Portland, Oregon. Growlers to go are available.  The next Brewer's Share Experimental will be brewed by Brewer, Clinton Wertzbaugher and is planned for late summer.
About Full Sail Brewing Company:
The independent and employee-owned Full Sail Brewery is perched on a bluff in Hood River, Oregon, overlooking the most epic wind and kite surfing spot in the world. At this very moment our specialists in the liquid refreshment arts are crafting barley and hops into your next beer. Among the company's most popular brews are Full Sail Amber, IPA, Pale, LTD, Session Premium Lager, Session Black and Session Fest. Founded in 1987, the Full Sail crew has been fermenting godlike nectar for 25 years.  Committed to brewing great beer and sustainable practices their award winning brews are now available in 29 states. The Full Sail Tasting Room and Pub is open seven days a week.  Swing by for a pint, grab a bite, tour the brewery, or just soak up the view.  http://www.fullsailbrewing.com
About American Craft Beer Week, May 14-20th 2012 
Started in 2006 and recognized by congress twice in its history, American Craft Beer Week® (ACBW) is the national celebration of America's small and independent craft brewers, their impact on American culture, and the love affair that craft beer enthusiast have for their favorite American made craft beers. Become a fan of American Craft Beer Week on Facebook or visit the ACBW website  for more information on events around the country and toast the week with a delicious beer brewed by one of the craft brewers in the US.