Full Sail Brewing's Shortest Day Winter Ale Returns
(Hood River, OR) – The shortest day of the year means the longest night, with more time to drink Full Sail's perfectly balanced Shortest Day Winter Ale.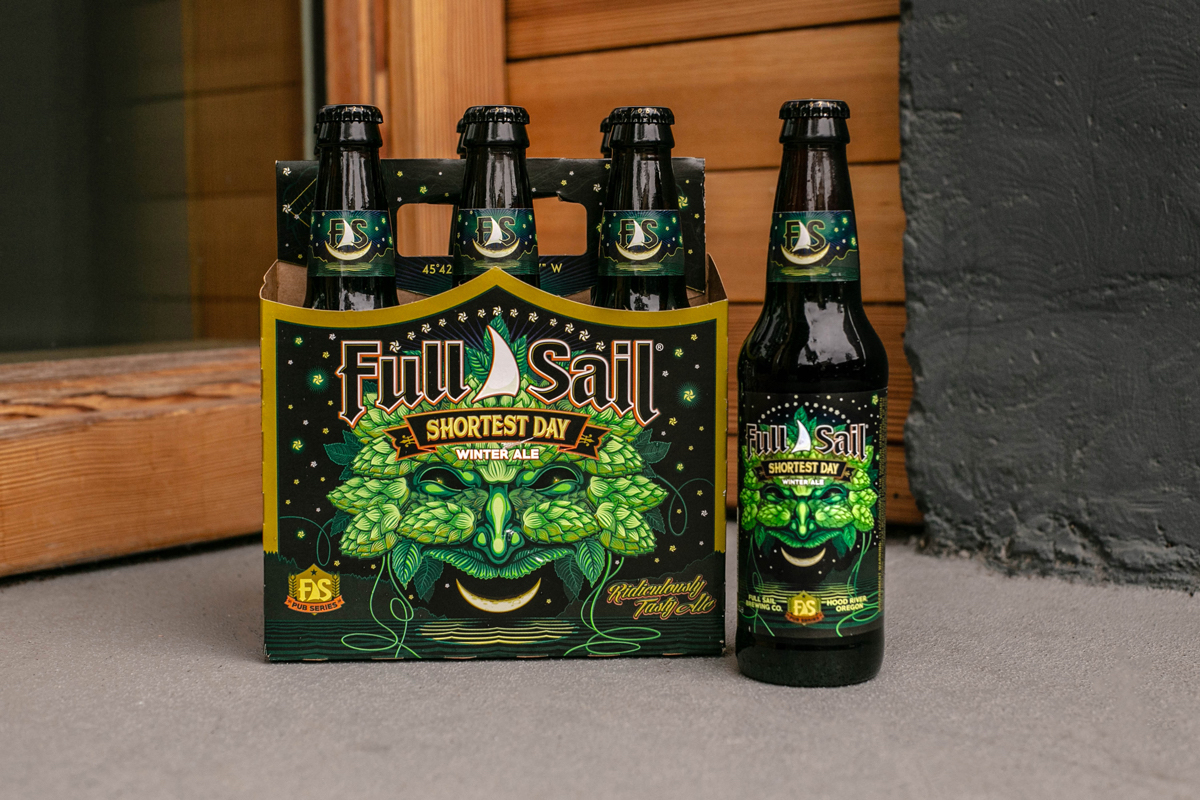 "First released in 2016, Shortest Day was so well-loved we're bringing it back as part of our rotating Pub Series," says Full Sail Brewmaster Greg Doss. "It offers bold flavor with excellent balance and is the perfect beer for the season." De-husked chocolate malt imparts dark chocolate flavor while crystal adds depth and complexity. Generous additions of Mosaic, Simcoe and Citra hops lend flavors of ­­fruit and sweet floral notes. "Enjoy this Pub Series selection on the shortest day of the year and any other day this season, while it lasts," says Doss.
Shortest Day's hand-drawn artwork by Portland-based TWEEQiM creativeLab's MiQ Willmott pays homage to Hood River's water sources, bounty of fresh ingredients, and of course, the award-winning taste in each and every bottle. The design features the Green Man—known in lore as the mascot of the winter solstice—fashioned from hops, celebrating the darkness of night and rebirth, as days begin getting longer again. "The Green Man's crescent-moon smile reflects on the river," says Willmott, "and the white stars represent the 'winter circle,' the phenomenon of stars that appear only on the winter solstice. Even the Big Dipper gets a cameo."
Shortest Day is the latest release in Full Sail's Pub Series. Like a portal to our pub, seasonal brews only available for a limited time (get 'em while they're cold) give you a taste of the pints and people that celebrate the Pacific Northwest. Shortest Day is available October to December in 6-packs, in the Full Sail Trophy Case and on draft. 6.6% ABV, 57 IBUs. From our pub to your place – cheers!
About Full Sail Brewing Company
Perched on a bluff in Hood River, Oregon, overlooking the mighty Columbia River's epic wind and kite surfing and the snow-capped volcanic peak of Mt. Hood, Full Sail is a true craft-brewing pioneer. Since 1987, Full Sail has been pouring pure Mt. Hood water, local ingredients and responsible processes into each and every pint. Full Sail's brews and sustainable practiceshave garnered more than 300 national and international awards, including more than 200 gold medals and Beverage World's "Craft Brewer of the Year" distinction. From Full Sail Amber and IPA to Session Lager and bourbon barrel-aged beers, Full Sail consistently strives to brew complex, balanced and ridiculously tasty beers. Learn more at www.fullsailbrewing.com.