Full Sail Brewing Releases Mathias's Main Ingredient Oatmeal Stout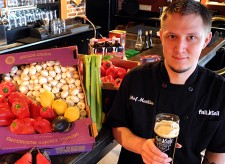 Hood River, Oregon – Full Sail will release a new beer in their Brewer's Share Experimental line up—"Mathias's Main Ingredient Oatmeal Stout."   The beer was brewed by Chef Mathias Engblom to celebrate the brewing and culinary arts, and it just so happens that February is Stout Month.
Main Ingredient pours with a thick creamy head and the color of dark chocolate. The oatmeal in this stout provides a full body on which to support the darker roast and caramel flavors. The beer has a smoothly rich, complex palate with notes of chocolate, toffee, and espresso. Northern Brewer hops provide a slightly spicy back note in this ale. 5.58% ABV 51 IBU.
According to Chef Mathias his inspiration for this beer is the culmination of his journey through gastronomy. "My beginning was an intimidating stint as a dishwasher. There is camaraderie between culinary crews that can feel quite daunting to overcome. Think of each restaurant as an immediate family set and the entire industry as the extended family. This family is not one that you are born into, but rather one that you must gain the respect of the entire team in order to be accepted into its fraternity of renegade cooks. We are, after all, playing with fire and knives and won't allow any "geek off the street" to share the experience. After about a week of drowning in the dish pit I knew I wanted to be a part of the somewhat dysfunctional family and at the Rendezvous Grill, Chef Kathryn Bliss and her band of miscreants accepted me. Out of the scullery, I began to learn the tricks of the trade that would get me through seven years of servitude under tyrant chefs and general managers. Blessed with my father's work ethic, I would become a mercenary of the kitchen, moving from one job to another as the opportunity came.
It wasn't until I returned to the kitchen where I started, that I really began to appreciate the career I had chosen. Kathryn Bliss became a wonderful mentor. She taught me what food was all about: simplicity, respecting quality ingredients and letting them "speak" for themselves. She helped me find my culinary identity. For this, I am forever grateful.
When I was honored with the opportunity to make this beer I wanted to make sure I showed it the same respect that Full Sail shows in everything we do. Perusing styles and sub styles of various ales and lagers, Oatmeal Stout stood out like it was highlighted on the page. Memories of cooking in that tiny kitchen, where I had learned so much, came flooding into my sub cortex. A draft beer of the same variety was always on tap and put often to use in the kitchen. Dishes such as oatmeal stout crème brulee, oatmeal stout white chocolate bread pudding, oatmeal stout braised short ribs… these would find their way onto special sheets with regularity. My mouth continues to water thinking about it.
In this industry, inspiration can and should be found wherever possible. I am lucky enough to be extremely passionate in what I do. Inspiration follows me, it haunts my dreams. Thank you to the Full Sail family for giving me this wonderful opportunity to create."
Full Sail has scheduled two "Meet the Brewer and the Beer" events to showcase this new beer. The first Meet Brewer and the Beer event will be at the Full Sail Tasting Room and Pub in Hood River, on Thursday, February 14th from 5:00 to 6:30PM. The second is at the Full Sail at Riverplace in Portland, Tuesday, February 19th from 5:00 – 6:30PM.  Join the Full Sail crew to celebrate and toast a pint of the new brew.
Mathias's Main Ingredient will also be a featured beer pairing on our February Brewmaster Dinner scheduled for Valentine's Day evening February 14th.  For Zwickelmania Brewery Open House Saturday, February 16th, we will be will giving guided brewery tours at 12, 1, 2, 3 and 4pm and offering samples Mathias's Main Ingredient Oatmeal Stout, paired with artisan chocolate. Tours and tasting are free of charge and each tour participant will receive a complementary glass. Full Sail's Brewery at Riverplace in Portland will also be open for tours that day.
With each Brewer's Share series beer, Full Sail picks a local charity to receive a portion of the proceeds from the sale of the beer. Mathias has chosen to support the VFW Post 4273 of Sandy, Oregon. So every keg of Mathias's beer benefits this organization.
The Brewer's Share series is a line-up of small batch draft beers where each Full Sailor takes a turn hand-crafting their own single batch recipe and a portion of the proceeds benefit a local charity of their choosing. Full Sail's Brewer's Share Experimental beers will only be available on tap at Full Sail's Tasting Room and Pub in Hood River, Oregon, and at Full Sail's Brewery at Riverplace, in Portland, Oregon. Growlers to go are available. The next Brewer's Share Experimental will be a collaboration beer brewed by Leo Torres, package technician and Eduardo Bello, maintenance supervisor and is expected in May.
About Full Sail Brewing Company:
The independent and employee-owned Full Sail Brewery is perched on a bluff in Hood River, Oregon, overlooking the most epic wind and kite surfing spot in the world. At this very moment our specialists in the liquid refreshment arts are crafting barley and hops into your next beer. Among the company's most popular brews are Full Sail Amber, IPA, Limited Lager Series, Pub Ale Series, Session Premium, Session Black, and Session Fest lager. Founded in 1987, the Full Sail crew has been fermenting godlike nectar for 25 years.  Committed to brewing great beer and sustainable practices their award winning brews are now available in 29 states. The Full Sail Tasting Room and Pub is open seven days a week. Swing by for a pint, grab a bite, tour the brewery, or just soak up the view.  http://www.fullsailbrewing.com  ###