Full Sail Brewing Releases Kyle's Broken Paddle IBA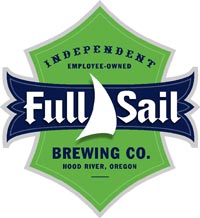 Full Sail Invites you to Meet the Brewer and the new Brewer's Share Beer
Hood River, Oregon – Full Sail Brewing Company is proud to announce the next beer in their "Brewer's Share" line up of small batch draft beers. Full Sail brewer, Kyle Larsen, invites you to the brewery to "Meet the Brewer and the Beer" and taste his "Broken Paddle India Black Ale (IBA) at the Riverplace Brewery in Portland, on Monday, March 9th from 5:00 to 6:30PM and at the Full Sail Tasting Room and Pub in Hood River, on Monday March 16th, from 5:00 to 6:30PM.
"This is a great way to give our customers a chance to meet the brewer who crafted the beer and gives the brewers a chance to show off their brewing skills," says Jamie Emmerson, Full Sail's Executive Brewmaster. "So come celebrate with Full Sail and raise a pint or two of his IBA with Kyle."
According to Kyle, Broken Paddle IBA is an unconventional beer. At first glance it appears to be a stout, but upon further investigation you will find a complex brew with many identities, somewhere between an IPA and a Stout. Pungent, citrus hop notes balance a background of roast in the aroma, and the palate compliments the aroma with an emphasis on dark chocolate and floral citrus hop notes. It is all backed up by a smooth mouthfeel yet an aggressive bitterness. ABV 6 IBU 65
When asked what his inspiration was for Broken Paddle, Kyle replied, "I wanted to brew a unique creation, something new to Full Sail and I did not follow any style guidelines. I combined both of my favorite Full Sail beers IPA and Oatmeal Stout to create a Black IPA. In my quest for the perfect beer, and over the course of 3 homebrews I decided that a hefty portion of spicy rye malt would complement the roastiness and aggressive hop characteristics of a black IPA.
Unfortunately, it seems the brewhouse didn't like my recipe and the mash stuck unlike any mash I've seen before. To top it all off the Brewmaster's personal mash paddle broke in the mash. Thankful that I wasn't fired on the spot, I realized my original recipe was not going to work, but I was blessed with an entertaining story and the name for the brew. The next day I concocted a new recipe adding a little here and there and tossing in handful of rye malt for good measure. Thus, Kyle's Broken Paddle India Black Ale was born. Prost!
Full Sail's Brewer's Share beers will only be available on tap at Full Sail's Tasting Room and Pub in Hood River, Oregon, and at Full Sail's Brewery at Riverplace, in Portland, Oregon.