Front Street Brewery Releases Tiny Tim's Christmas Porter 11/29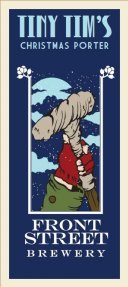 It's the most wonderful time – FOR A BEER! On Friday, November 29th, our highly-anticipated, holiday seasonal brew will hit the taps and kick off our Christmas celebration.
Tiny Tim's Christmas Porter is a rich, Imperial Vanilla Java Porter for the naughty AND nice on your list. This beer is a high alcohol Porter that is blended with 25 gallons of cold steeped French Vanilla Coffee. What's not to love about that?
One Limited Release batch of this local brew will go on tap at Front Street Brewery for the holiday season beginning Black Friday, November 29th, 2013. Get it while you can because this beer flies… just like ole St. Nick and his reindeer! 8.5% ABV
GREAT GIFT IDEA: Available in 64oz Jugs, Growlers OR in our Holiday Growler Gift Box, including 4 FSB Logo Pints!  To view all of our beers currently on tap, click here.
Located at 9 North Front Street Wilmington, NC 28401 • (910) 251-1935 • [email protected]
Hours: 11:30 – Midnight 7 Days a Week • FULL Menu Served Until Midnight!