Founders Mosaic Promise Benefits ArtPrize
(GRAND RAPIDS, MI) – Founders Brewing Co. announced today that it will introduce Mosaic Promise, an ale brewed with a single malt and a single hop, this September. Proceeds from the sale of this new ale will benefit ArtPrize, the world's largest art competition that takes place annually in Grand Rapids, Mich. Mosaic Promise will be sold in Michigan, Wisconsin, greater New York City and greater Chicago both on draft and in 12 oz. bottles with a suggested retail price of $9.99 per 6-pack.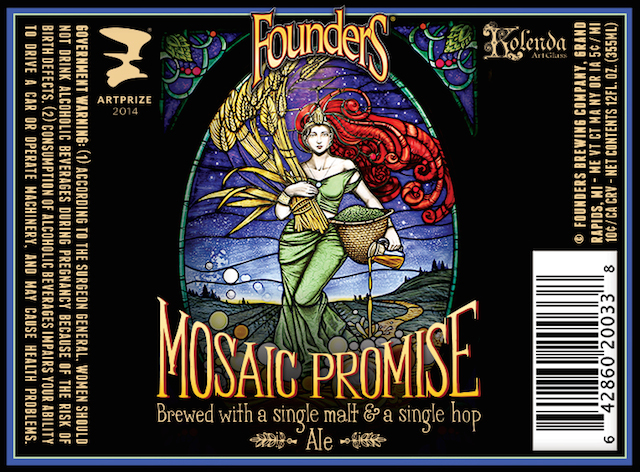 In April 2013 the two organizations inked a deal that made Founders the official brewery of ArtPrize for the next five years. The premier leadership sponsorship deal included offering Founders beer at all official ArtPrize events, signage, promotion, merchandise, specialized glassware and other items. It also included permission for Founders to use the ArtPrize identity marks (logo and graphics) on any co-packaged items, including beer. Founders expects to release a new beer for each year of its five-year partnership with ArtPrize under the name "Artist Series". This is year two. Last year's release was Inspired Artist Black IPA.
"Making a unique beer in honor of ArtPrize has become a fun challenge for our brewers," said Dave Engbers, co-founder and vice president of brand and education at Founders Brewing Co. "This year's release just fell into place. Ninkasi—a stained glass ArtPrize submission that showed in our taproom last year—became a permanent part of our taproom when we purchased it last year. We knew right away that it would make a perfect label for Mosaic Promise, a beautifully simple beer that we had been experimenting with for some time."
Mosaic Promise showcases a single malt—Golden Promise—and a single hop—Mosaic. The traditional barley's depth of flavor and the versatility of the hops' bittering, flavor and aroma characteristics are the strong pillars that comprise the structure of this clean, rich, golden beer. Founders can brew complex beers with the best of them, but they recognize that there's also beauty in simplicity. The beer clocks in at 5.5% ABV and 50 IBUs.
Proceeds from the sale of Mosaic Promise will support the future programming of the ArtPrize organization. ArtPrize is an international art competition, open to any artist and decided by public vote. Its mission is to promote critical dialogue and collaboration through new, creative ideas among a large and diverse population of people. As an innovator in redefining what beer can be, Founders believes that experimentation is central to the human experience—whether one experiments with grains and hops or colored glass and light—and that sharing one's creation with the public is a brave act worth celebrating.
"Founders is an iconic brand producing a sublime range of exquisite beers in our own Grand Rapids," said Christian Gaines, executive director of ArtPrize. "We're honored and elated to count Founders as the ArtPrize Official Brewery and to include Mosaic Promise as the latest special release beer—one that's emblematic of our strong partnership and shared commitment to art, artists and community."
More than 400,000 people are expected to attend ArtPrize 2014.
Founders also partnered with ArtPrize to launch ArtPrize on Tap, the newest ArtClub membership perk. From the patios of the Centennial Room, Founders' private second-floor entertainment space, ArtPrize on Tap offers ArtClub members the opportunity to connect year-round and stay on the ArtPrize insider track, while enjoying Founders food and beer. Founders will premiere Mosaic Promise at the August installment of ArtPrize on Tap. Held on the third Wednesday of every month, ArtPrize on Tap is free for ArtClub members, and friends of ArtPrize and Founders can join for $10. To learn more, go to artprize.org/artclub.
Mosaic Promise will be available for a limited time starting on Monday, September 8, across Founders' Michigan, Wisconsin, metro NYC and Chicagoland distribution footprint. It will be released in the brewery's taproom on draft and in bottles starting on Saturday, September 13. Mosaic Promise will be featured at official ArtPrize events.
This year marks the sixth edition of ArtPrize, which will take place Sept. 24–Oct. 12, 2014. The Founders taproom will be a venue for the sixth year running.
About Founders Brewing Co.
Established in 1997 by two craft beer enthusiasts—Dave Engbers and Mike Stevens—with day jobs and a dream, Founders Brewing Co. brews complex, in-your-face ales, with huge aromatics and tons of flavor. Founders ranks among the top 30 largest craft breweries in the U.S. and is one of the fastest growing. The brewery has received numerous awards from the World Beer Cup and the Great American Beer Festival and RateBeer and BeerAdvocate users often rate its beers among the best in the world. Located in downtown Grand Rapids, Michigan, Founders is a proud member of the Michigan Brewers Guild and the Brewers Association. For more information, visit foundersbrewing.com.
About ArtPrize
ArtPrize is an international art competition, open to any artist and decided by public vote. It invites artists to try out new ideas on a large and diverse population of people. It seeks to broaden the critical dialogue around contemporary art by awarding the world's largest art prize, at $560,000. Registered artists and venues connect online at artprize.org and agree to present the artwork for public display during the 19-day event. The public votes using mobile devices and the web to distribute $260,000, while an additional $300,000 in juried awards are decided by a group of international art experts. ArtPrize 2013 included 1,524 entries representing 47 countries and 45 U.S. states and territories, and attracted more than 400,000 active participants. Since its inception, individuals of all backgrounds have cast more than 1.7 million votes for public art.