Founders Introduces Big Lushious, 11th Backstage Series Beer
(GRAND RAPIDS, MI) – Founders Brewing Co. will introduce Big Lushious, a chocolate raspberry stout, this December to mark the eleventh installment in the brewery's popular Backstage Series. Like all of Founders' Backstage Series beers, Big Lushious will be sold in 750mL bottles, with a suggested retail price of $16.99 per bottle.
Big Lushious is a deep, rich stout that's packed with flavor: roasted malts, all-natural dark chocolate, a subtle suggestion of burnt coffee grounds and a kiss of tart raspberries. At 7.8% ABV, it's big, sumptuous and extravagant, but also balanced.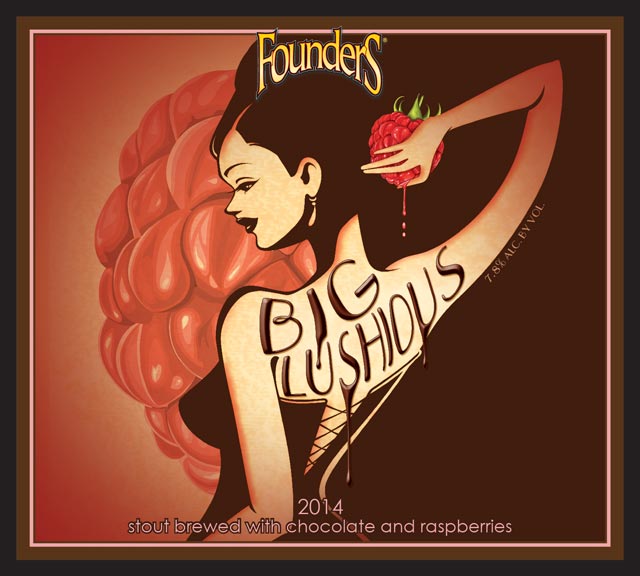 "We thought Big Lushious would make a great release for the holidays," said Co-Founder and Vice President of Brand & Education Dave Engbers. "It's a luxurious beer for us. It's meant for bringing to parties and is perfect for sharing with friends and family after a feast."
Founders' Backstage Series is made up of boundary-pushing, experimental beers. The intent of the series is to take the diehard Founders fan experience to a wider audience—though all of the beers are still released in limited batches. Since its introduction in the summer of 2011, Founders' Backstage Series beers have quickly become some of the most sought-after releases in the industry.
Big Lushious will be released in limited quantities across Founders' distribution footprint beginning on Monday, December 1, and will be available at the brewery's taproom that same week. This will be the last Backstage Series release from Founders in 2014—look for more in 2015.
About Founders Brewing Co.
Established in 1997 by two craft beer enthusiasts—Dave Engbers and Mike Stevens—with day jobs and a dream, Founders Brewing Co. brews complex, in-your-face ales, with huge aromatics and tons of flavor. Founders ranks among the top 30 largest craft breweries in the U.S. and is one of the fastest growing. The brewery has received numerous awards from the World Beer Cup and the Great American Beer Festival, and RateBeer and BeerAdvocate users often rate its beers among the best in the world. Located in downtown Grand Rapids, Michigan, Founders is a proud member of the Michigan Brewers Guild and the Brewers Association. For more information, visit www.foundersbrewing.com.