Founders Brewing Project PAM, Third Backstage Series Release of 2015
(GRAND RAPIDS, MI) – Black IPAs have been a staple of an annual tradition at Founders Brewing Co. – the Black Party – a celebration of experimental dark beers. Project PAM was born out of this tradition and is the third Backstage release of 2015; a Black IPA whose hop combinations and malts have been perfected and balanced over several years. This beer is brewed with a cornucopia of hops including Chinook, Nugget, Centennial, Amarillo, El Dorado and Mosaic, balanced with Crystal and Midnight Wheat malts, then aged in maple-bourbon barrels.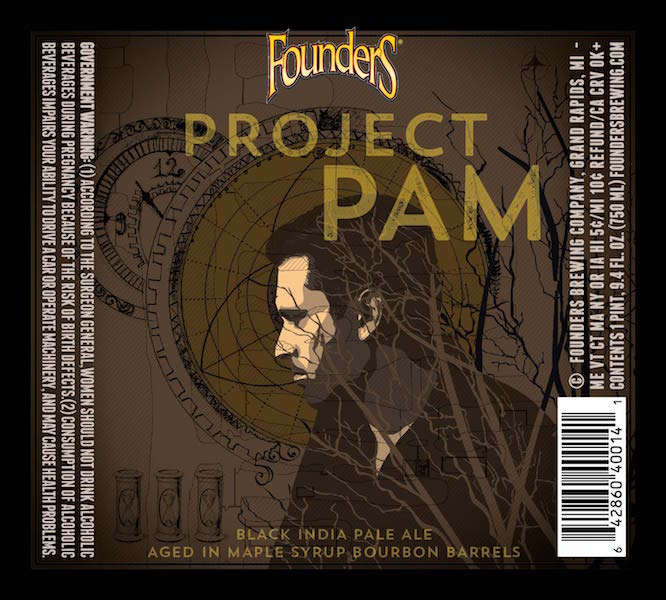 "Project PAM refers to the code name we used in the cellar." explains the head of the brewery's barrel-aging program, Jason Heystek. "As with a lot of our barrel-aged beers, each one gets a code name to keep things fun and maintain some mystery. With Project PAM, the maple-bourbon barrels provide sweetness to keep the hop bitterness in check, but also impart the flavor complexity of an oak bourbon barrel."
Founders' Backstage Series is made up of boundary-pushing, experimental beers. They are the brewers' playground. The intent of the series is to take the diehard Founders fan experience to a wider audience—though all of the beers are released in limited batches. Since its introduction in the summer of 2011, Founders' Backstage Series beers have quickly become some of the most sought-after releases in the industry.
Project Pam will be available in 750-ml bottles in our taproom starting on November 20 and across Founders distribution network beginning late November 2015 with a suggested retail price of $14.99.
About Founders Brewing Co.
Established in 1997 by two craft beer enthusiasts—Dave Engbers and Mike Stevens—with day jobs and a dream, Founders Brewing Co. brews complex, in-your-face ales, with huge aromatics and tons of flavor. Founders ranks among the top 20 largest craft breweries in the U.S. and is one of the fastest growing. The brewery has received numerous awards from the World Beer Cup and the Great American Beer Festival and RateBeer and BeerAdvocate users often rate its beers among the best in the world. Located in downtown Grand Rapids, Michigan, Founders is a proud member of the Michigan Brewers Guild. For more information, visit foundersbrewing.com.