Founders Brewing News – 2 New Markets and More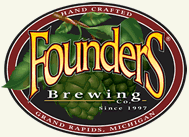 Founders Brewing has shared some interesting tidbits with us that we'd like to pass along. While this leaves us with more questions than answers, it's worthy of mentioning to you. Cheers!
Founders Entering Two New Markets
"Iowa (beginning on Monday, March 19) and Rhode Island (no release date confirmed yet)"
New Looks to Packaging
"New case boxes–did our test run week before last and are fixing the colors from here."
Collaborations?
"We just may be at work on our first ever collaboration…"