Founders Brewing Latest Expansion Will Bring Them To 900k BBL Capacity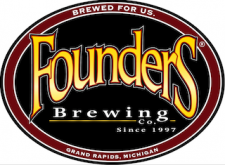 (Grand Rapids, MI) – Founders Brewing Co. announced today that they plan to expand their brewery production facility at their current site, 235 Grandville Ave SW. Pending approvals, the brewery expects to break ground on this expansion in late October.
The expansion will take place in two phases: the first phase will involve the addition of approximately 37,000 square feet comprised of space for new production equipment, including a new 300 barrel (bbl) brew house and new fermentation tanks, as well as additional offices. The second phase will add approximately 20,000 square feet of space for more fermenting and packaging equipment.
"The focus of this expansion is to increase the capacity of our production facility—to brew more beer right here in Grand Rapids, Michigan," said Mike Stevens, co-founder and CEO of Founders Brewing Co. "Because of increasing demand from the growing beer enthusiast community, we aren't able to fill orders right now. We're expanding because we're committed to this city, this state and the craft beer community."
After both phases of the expansion, the Founders production facility will have the footprint for 900,000 bbl of capacity, which will be achieved incrementally through the addition of more fermenters and updated packaging equipment. Founders expects to end 2014 having shipped 200,000 bbl of beer and to ship 300,000 bbl in 2015.
The brewery plans to add 72 jobs over three years, ranging from managerial to operations to sales positions, generated by this expansion.
About Founders Brewing Co.
Established in 1997 by two craft beer enthusiasts—Dave Engbers and Mike Stevens—with day jobs and a dream, Founders Brewing Co. brews complex, in-your-face ales, with huge aromatics and tons of flavor. Founders ranks among the top 30 largest craft breweries in the U.S. and is one of the fastest growing. The brewery has received numerous awards from the World Beer Cup and the Great American Beer Festival, and RateBeer and BeerAdvocate users often rate its beers among the best in the world. Located in downtown Grand Rapids, Michigan, Founders is a proud member of the Michigan Brewers Guild and the Brewers Association. For more information, visit www.foundersbrewing.com.