Founders Brewing Introduces Doom To Backstage Series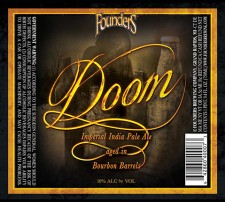 GRAND RAPIDS, Mich., Feb. 11, 2013 –Founders Brewing Co. will introduce Doom, a bourbon-barrel-aged Imperial IPA, this April to mark the sixth installment in the brewery's popular Backstage Series. Like all Backstage Series beers, Doom will be sold in 750mL bottles. It has a suggested retail price of $12.99 per bottle.
Doom is unleashed when Founders' award-winning specialty Imperial IPA, Double Trouble, is aged in bourbon barrels for four months to create a distinct flavor experience. So, while Double Trouble is brewed to turn your world upside down, Doom is brewed to tear it apart: pungent hops conspire with boozy bourbon notes to send your senses spinning.
Known as "Hand of Doom" when originally brewed for Founders' taproom, this 10% ABV beer is a unique addition to Founders' barrel-aged repertoire, which has mostly consisted of malt-forward beers such as Backwoods Bastard and Kentucky Breakfast Stout.
"Doom is one of those beers that we've talked about releasing ever since we started the Backstage Series," says Co-Founder and Vice President of Brand & Education Dave Engbers. "It's hop heavy. It's barrel-aged. It's unapologetic. It's the definition of a Founders beer."
Founders' Backstage Series is made up of boundary-pushing, experimental beers that have previously been available only in the brewery's taproom and at a handful of high-exposure events. The intent of the series is to take the diehard Founders fan experience to a wider audience—though all of the beers are still released in limited batches. Since its introduction in the summer of 2011, Founders' Backstage Series beers have quickly become some of the most sought-after releases in the industry.
Doom will be released in limited quantities across Founders' distribution footprint beginning on Monday, April 22, and will be available at the brewery's taproom through a ticketed release during the week of April 14. The brewery expects to release two more Backstage Series beers in 2013.
About Founders Brewing Co.
Established in 1997 by two craft beer enthusiasts with day jobs and a dream, Founders Brewing Co. brews complex, in-your-face ales, with huge aromatics and tons of flavor. Founders ranks among the top 50 largest craft breweries in the U.S., it has received numerous awards from the World Beer Cup and the Great American Beer Festival and its beers are often rated among the best in the world by RateBeer and BeerAdvocate users. Located in downtown Grand Rapids, Michigan, Founders is a proud member of the Michigan Brewers Guild and the Brewers Association. For more information, visit www.foundersbrewing.com.