Flying Fish Exit 18 Baltic Porter Debuts This Week
(Somerdale,NJ) – Flying Fish Brewing continues on with their Exit Series, releasing Exit 18 Baltic Porter. Learn more and check out the release party details. Cheers!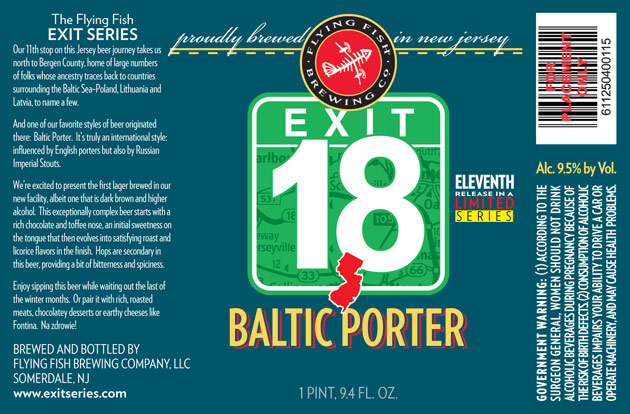 The first lager brewed in our new facility ships this week. This truly international style-influenced by English porters and Russian Imperial Stouts-was developed in countries in the Baltic region, including Lithuania, Poland, Latvia and Estonia to name a few. The section of Bergen County where Exit 18 lands is the state's largest population of folks of these ethnicities.
This exceptionally complex beer starts with a rich chocolate and toffee nose, an initial sweetness on the tongue what then evolves into satisfying roast and licorice flavors in the finish. This 9.5% abv beer starts shipping this week in 750ml bottles and extremely limited draft.
Exit 18 Kickoff in the Tasting Room This Friday
Be one of the first to taste this exceptional effort by the brew crew. We'll be featuring the beer on draft as well as a pin of Exit 18 infused with hazelnuts. Bottles will also be available for retail. And, we'll be providing complimentary snacks like kielbasa and Polish mustard. Tasting room is open 3-8pm.