First Woman Achieves Certified Cicerone™ Status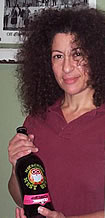 Experienced Beer Expert Earns Exclusive Title
Chicago – Annette May, Beer Department Manager at Merchant's Fine Wine in Dearborn, MI has become the first woman to pass the examination for Certified Cicerone™—a professional credential for beer experts much like the sommelier exams taken by wine specialists. May joins 16 other beer professionals nationwide who passed the rigorous exam during 2008.
"As a Certified Cicerone, Annette May has the talent and experience to select and present great beers for consumers to enjoy," said Ray Daniels, Director of the Cicerone Certification Program™. "She understands the full scope of beer and its production, knows how to manage beer so that it will reach the consumer in good condition and can guide consumers in pairing beer with food."
Prior to assuming her position with Merchant's Fine Wine, May was a sales representative for B. United International Imports from 2001 to 2005. She got started in the beer business in 1995 as a bartender and soon joined the staff at the Map Room, one of Chicago's best known specialty beer bars where she worked from 1996 to 2000.
"We're not just beer drinkers anymore," says May. "Now wine sommeliers and chefs ask for my advice on beer pairing!"
The four-hour exam for Certified Cicerone includes a written test, a hands-on demonstration and a 12-beer evaluation of tasting skills. Candidates must achieve a score of at least 80 percent overall and at least 70 percent on the tasting portion. During 2008, only one out of three candidates who took the exam achieved a passing score. The Master Syllabus available at www.cicerone.org outlines the knowledge covered by the exam.
As the second level of the Cicerone Certification Program, Certified Cicerone denotes an experienced beer professional who is most likely working as a retail beer specialist, retail manager or as a brewery or wholesaler technical or sales representative. A first level exam that awards a Certified Beer Server certificate designates front-line retail staff with a competence in beer.
Find out if you might have what it takes to become a Cicerone. Take the free 10-question sample exam found at the Cicerone Certification Program website, www.cicerone.org.
The Cicerone Certification Program is a service of the Craft Beer Institute, the Chicago-based beer and brewing education organization. The program is directed by industry veteran and brewing book author, Ray Daniels.
* Certified Cicerone™ and Cicerone Certification Program™ are trademarks of the Craft Beer Institute, a Chicago-based beer and brewing education organization.
Congratulations Annette.. thefullpint.com