Firestone Walker XVI Blending Session Photos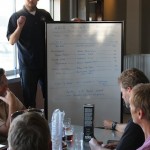 We're a little more than 2 months away from the pending release of Firestone XVI, a blend of strong barrel aged beers.  Here are a few photos that will get you excited, make you jealous, and hopefully thirsty for their upcoming 16th Anniversary Ale.
Blended beers appear to be Double DBA, Velvet Merkin, Helldorado, Sticky Monkey, Bravo, and a beer we need to learn about called PNC, a strong Buckwheat Stout? Oh how time flies. Cheers!