Firestone Walker BarrelWorks – Peachy Bones & Champs de Fraise Liberation Details
(Buellton,CA) – Join Sour Jim & Barrelmeister Jeffers on Saturday, April 16th as we unleash two new Barrelworks beers to the wild! Introducing Peachy Bones, a wild Saison fermented with white peaches, and Champs de Fraises, a wild ale fermented with strawberries.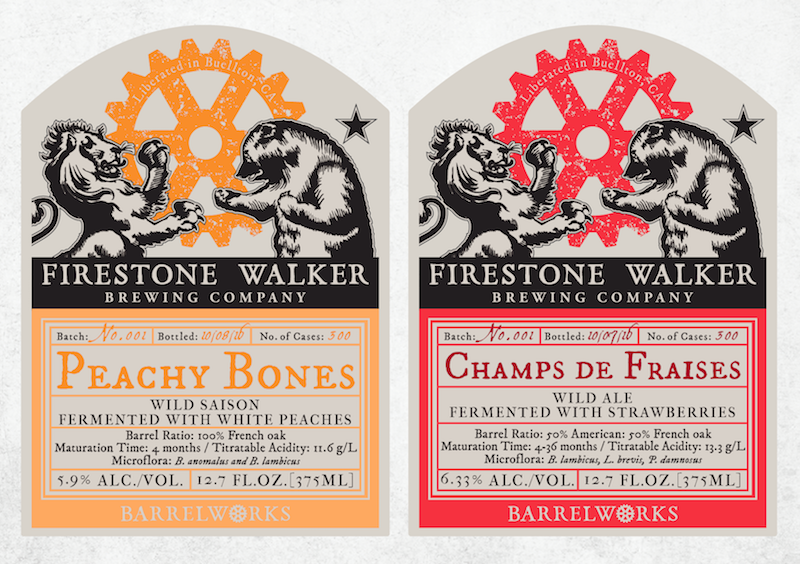 Purchase bottles via Brown Paper Tickets (link below) then stop by Barrelworks for the release on Saturday, April 16th. Bottles are 375ml, $15.50 (plus tax & CRV) each with a max purchase of four bottles per beer (eight bottles total per person).
For guests who purchase the full allocation (four bottles of each beer), then we invite you to join us in an epic bottle share hosted in our barrel room by Sour Jim & Barrelmeister Jeffers on April 16th! Bring a bottle to contribute & then kick back as we crack open some of our favorite brews.
Please read carefully as we have substantially changed our releases:
-Bottles are 375ml & cost $15.50 plus tax & CRV each.
-Bottles go on sale via Brown Paper Tickets on Wednesday, March 23rd at 9am PST.
-Guests can pick up bottles starting Saturday, April 16th at 11am.
-Guests must pick up their bottles by Sunday, May 15th at 8pm otherwise they will be forfeited back to Firestone Walker Barrelworks without a refund.
-Bottles are only available for pick up at Firestone Walker Barrelworks in Buellton, CA.
-Guests may purchase up to four bottles of each beer & may not make multiple purchases (yes, we will be monitoring names, emails & credit cards).
-Guests may proxy for one additional guest; meaning one person is allowed to pick up the allocation of two beer purchases total.
-Only guests who pre-purchase the full allocation of four bottles each will receive an invite to our barrel room bottle share. Guests are encouraged to bring a favorite beer from home to share.
-Guests who are invited to the bottle share will need to check-in with a Barrelworks staff member to receive their bracelet which will give them access to the barrel room. Guests may not bring any other friends with them unless they have also purchased the full allocation.
CLICK HERE TO PURCHASE BEER/ACCESS TO BOTTLE SHARE
Barrelworks is about innovation, exploration and trying quirky ideas to continue to evolve our Liberations.
Questions? Please email us at [email protected]