Firestone Walker Abacus Label + News Tidbits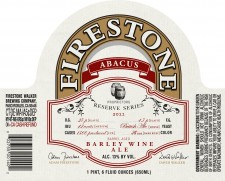 Firestone Walker of Paso Robles, CA shares a few tidbits, as well as the label art for the latest in their Proprietor's Series, Firestone Abacaus, a big 13% barrel aged barleywine.
Expansion News – Firestone Walker Proprietor's Series (Double Jack,Abacus,Parabola,Walker's Reserve,Anniversary) will be entering the Colorado and Chicago markets. Stay tuned for approximate dates.
Nectar Ales – The Nectar Ales line (IPA,Red Nectar,Humboldt Brown,Black Xantus) will start showing up in the new states the Proprietor's Series is being shipped to. IL,NY,NJ,VA and PA.
New Branding for Walker's Reserve – As you might have heard, or read above, Walker's Reserve Porter is now part of the Propreitor's Reserve Series. As such, it has received a new, fancy label. Look below to see how handsome it is by clicking to enlarge.