Ferment Brewing Releases Lost in Fragaria
(Hood River, OR) — Ferment Brewing in Hood River today announced the release of Lost in Fragaria, a sour ale brewed with generous amounts of Oregon strawberries. The beer is the second in Ferment's Wild Batch Series, which highlights a variety of Oregon-grown fruit, and is released in 12oz 6-pack cans.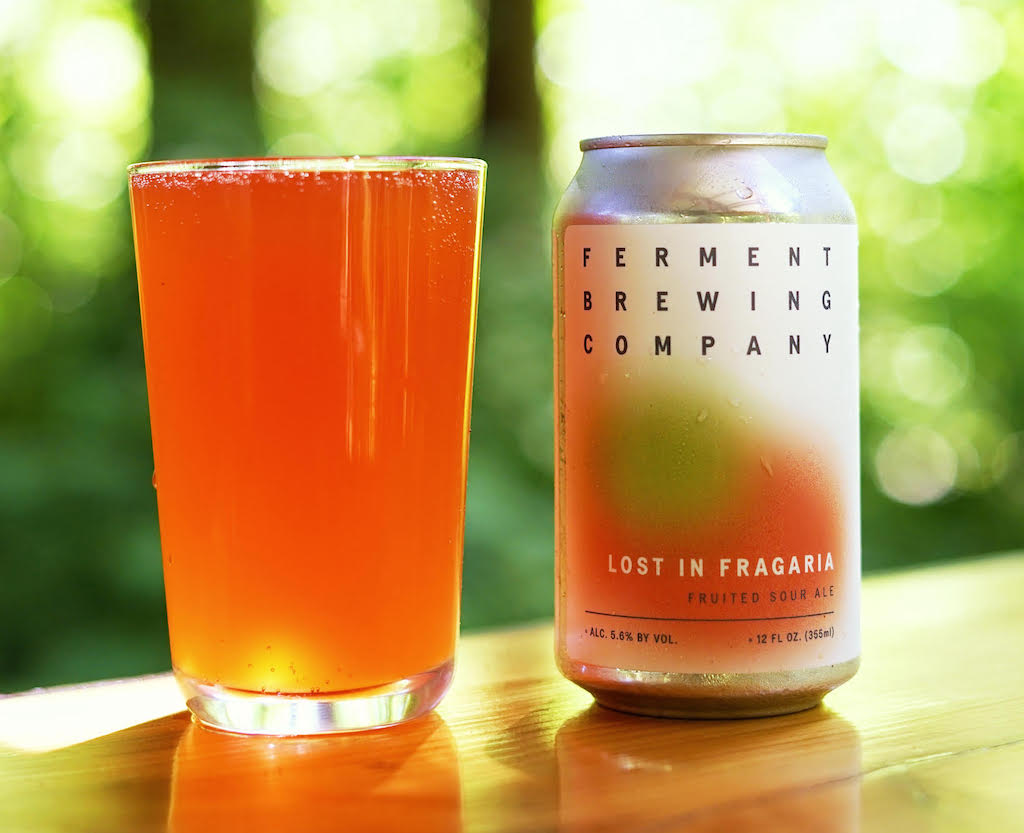 Lost in Fragaria was fermented with 28 pounds of strawberries per barrel, giving the beer a pink color and full body. Soured with lactobacillus brevis in a warm wort and then finished with ale yeast, the beer has a soft tartness that is well balanced with a perception of sweetness from the fruit. The beer was given a subtle dry hop charge of Hüll Melon hops, which are known to impart honeydew melon and strawberry flavor. 5.8% ABV.
Lost in Fragaria replaces Marion Rubus, a marionberry and raspberry beer, and is available the next four months in cans and on draft at specialty beer stores and taprooms across Ferment's distribution in Oregon and Washington. It is also available for sale in cans in Ferment's first floor Bottle Shop underneath Ferment's Tasting Room. Because Hood River is one of the few American cities without a law prohibiting open containers, visitors can purchase cans and crack them open for a waterfront stroll. The Bottle Shop is open every weekend of the summer.
About Ferment Brewing Co.
Ferment Brewing Co. opened in 2018 as a 20-barrel brewery and tasting room in Hood River, Oregon. Born out of an appreciation for the art of fermentation, the company prides itself in providing a modern brewery and tasting room experience that fuses traditional farmhouse techniques with a forward-thinking scientific approach. Ferment offers a unique family of beers and kombuchas that tap the wild terrain of the Columbia River Gorge for inspiration. For more information, visit https://www.fermentbrewing.com/