Epic Brewing Releases Los Locos Just in Time for Cinco De Mayo
(Salt Lake City, UT + Denver,CO) – Inspiration can strike at any time. For "Los Locos" a Mexican-Style Lager with lime and sea salt, that inspiration happened while eating at Troy Guard's Mexican restaurant, a few blocks from our Denver brewery. Guard's badass food pushes the boundaries with bold flavors and out of the norm ingredients. We instantly clicked, sharing a common passion for audacity and a collaboration was born.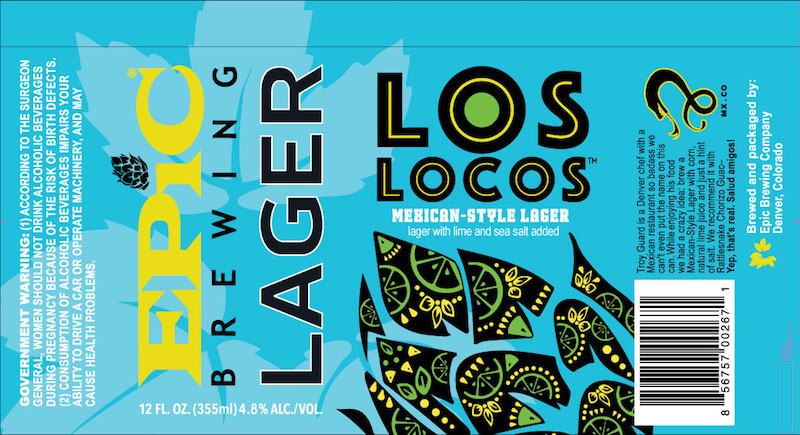 Los Locos is a sessionable, refreshing lager with a hint of corn sweetness, a dash of sea salt and the perfect kick of natural lime juice. It not only pairs perfectly with spicy Mexican dishes but is a great accompaniment to all of your favorite summer activities.
We brewed the first batches exclusively for the restaurant and after the first pitcher it was clear something magical was happening. Maybe it was the hot weather, the spicy food, the great company, or a combination of all thee, whatever the cause Los Locos hit the spot and quickly became our go-to
summer beer.
"Los Locos is the spirit of summer in a can. It's light, refreshing, and perfect for enjoying on the hammock or with your friends at a raging pachanga," said Kevin Crompton, Epic's Brewmaster.
The beer is available on draft and in 12 oz cans with full distribution to all of Epic's markets starting in May. Whether you prefer growlers or throwing cans in a cooler take some along on your next adventure, just make sure to bring enough for your friends. Salud amigos!
Epic Brewing Company, LLC was opened in May of 2010 in Salt Lake City and expanded to Colorado in 2013. Epic is known for its diverse lineup of boundary pushing beers. Epic is distributed in the following states: Arizona, California, Colorado, Idaho, Indiana, Kansas, Massachusetts, Michigan, Minnesota, Montana, North Carolina, New Jersey, Nevada, Ohio, Oregon, Texas, Utah, Virginia & Washington D.C., Washington, Wisconsin, Wyoming.
For more information on Epic Brewing Company visit: www.epicbrewing.com