Epic Brewing Intoduces Element 29 Pale Ale & 4 Different Coffees In Big Bad Baptist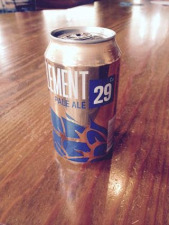 Salt Lake City, UT – Epic Brewing is releasing its third 12oz can, Element 29 Pale Ale. This hop-forward American Pale Ale highlights the Amarillo Hop, which has a sweet, ripe citrus aroma and flavor reminiscent of Valencia Oranges and Tangerine. It has a medium body with a pleasant malt character ranging from light crust to mild graham cracker.
Overall a very good drinker for colder weather with just the right balance between malt sweetness and hoppy bitterness. The cans are expected to be in stores by the beginning of November.
Four Different Coffees in This Season's Big Bad Baptist
This season's releases of Big Bad Baptist features four different coffees. The Salt Lake City and Denver breweries each choose two local roasters and will alternate release between them. The name of the roaster is stamped next to the release number and brewery on each bottle.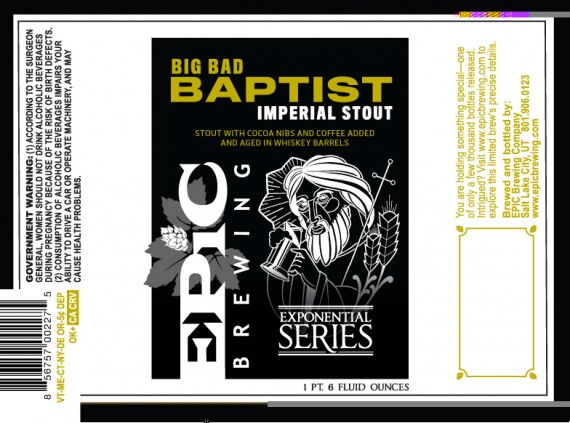 From Denver, CO
Novo Coffee – Big Bad Baptist Blend
This beer is really about wanting more and finding ways to push the limits of flavor and intensity. Novo Coffee was kind enough to roast a special blend for us that is bold, rich, dark, and a little over the top. It stands out in front of cocoa nibs and whiskey and is only kept in check by the intensity of the malt. If it is too coffee forward for your liking, it will mellow nicely with a few months of cellaring.
Huckleberry Roasters – El Carmen Columbian
While still rich and roasted this coffee steps back and harmonizes with the chocolate, bringing out tertiary flavors of walnut and wood. This compliments the caramel and barrel undertones from the whiskey leaving a complex and very well integrated experience from start to finish.
From Salt Lake City, UT
Charming Beard – Coffee Guatemala
The coffee has a strong presence in the nose but is mellow and smooth without the typical roasted bitterness of previous releases. This allows the cocoa to shine through as well as the bourbon and oak. Overall this combination is very well balanced, complex, and but maybe a little too smooth.
Café Ibis – Org Mountain Sumatra
This has become the classic Big Bad Baptist coffee with a deep roasted body that supports the cocoa's fruity character and lends its own notes of plum and sweet caramel. The whiskey and barrel come through on the finish with a return to the chocolate before the alcohol lifts off the pallet.
www.epicbrewing.com – @EpicBrewing – facebook