Epic Brewing Announces Oak & Orchard Series
(Salt Lake City, UT) – In hardened bunkers built into each side of the great Rocky Mountain Range our mad fermentationists have been plotting in their secret sour-laboratories. They combine science, art and maybe a bit of alchemy making and breaking the very definition of sour beer. They're constantly blending, tasting, and manipulating both bacteria and yeast in ways few others would dare to imagine, combining microbiological science with the flavors of untold-fruits and oak, until each beer speaks or, better yet, sings to them.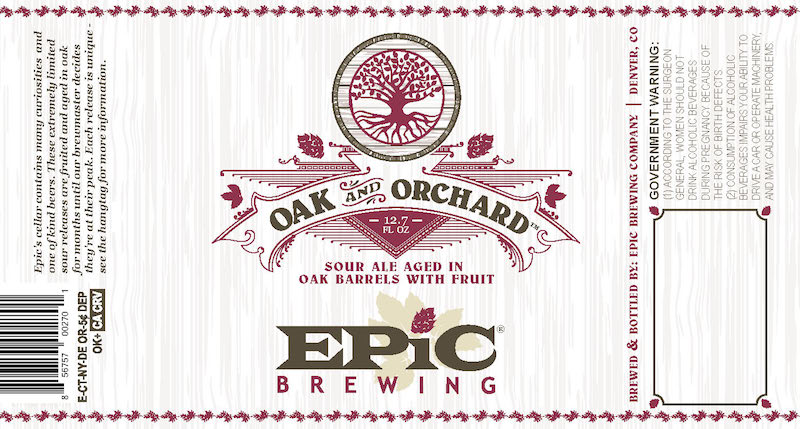 Will these innovators and game changers be called out on "unsecure social networks," blamed for pushing too hard against the boundaries of the very nature of beer? What if they tear a hole in the very fabric of the beverage universe by creating a beer a world-class wine wishes it could be? The repercussions aren't clear, the risks are high, and the world might simply, not be ready…. but the beer is. So line up you geeks and coinsures, whale hunters and traders, enthusiasts and critics, hipsters and haters, and join us in the brave new world of Epic Sour Beer.
This September we pull back the curtain and reveal not just one sour beer but an entire series, in fact, a full philosophy of what American sour beer can be. The project's code name is Oak & Orchard and every release will be a surprise. The common theme between the beers is that they are all 100% barrel aged in either oak foeders, casks, or both and feature a fruit or blend of fruits. Pay careful attention to the hangtag on each bottle for a list of the unique ingredients.
The initial release was inspired by Syrah wine and spent the first part of its life in a recently acquired foeder from Napa Valley before being siphoned into casks with blueberry, boysenberry, and black currants. The beer's aroma is floral, vinous and reminiscent of berries ripening on the bush. Its flavor explodes with fruit complexity and jam sweetness before being washed away with a puckering sourness and finishing with a hint of cranberry and a kiss of Brettanomyces funk.
Released in parallel, as a sister beer to the Syrah, is a Pinot inspired sour that features blueberry, boysenberry, cranberry, strawberry and plum. The fruity bouquet pops with red berries, French Oak and light cellar notes from the Brettanomyces. The beer is crisp and puckering with the tartness of unripe fruit and a complex vinous finish that any wine lover would admire.
The beer will release September 30th at our Denver Brewery on both draft and in 375ml wax dipped bottles. A special VIP tasting and cellar tour is available which includes a charcuterie pairing, select barrel tasting and your choice of either release for $30. Tickets are available at here. Seating is very limited and will sell out quickly.
The initial release is very limited and there's no guarantee these particular blends will ever be produced again. Future additions to the series will be rolling out over the next few months as our mad fermentionists and their microbiological minions determine when the next reality warping sour beer is ready for human testing.