Elysian and Home Brewers Create Washington Grange Farmhouse Ale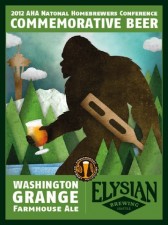 Begun in the 1860s, the Grange bound farm families and communities together in a world beset by the depredations of weather, politics and isolation. In addition to advocating for the interests of the family farm and farm communities it served in many cases as a social center, its meeting halls host to events such as dinners, bees and gatherings for community activism. Washington Grange Farmhouse Ale was brewed with the cooperation of Elysian Brewing and dozens of local home brewers to produce a beer for the 2012 national Homebrewers Conference using ingredients entirely from the state of Washington. It is made available to attendees at this year's American Homebrewers Association-sponsored conference in Bellevue, Washington.
The recipe for the Grange Farmhouse Ale was a collaboration between Dick Cantwell, Head Brewer at Elysian, and Seattle-area homebrewing luminaries Brandon Horn and Mark Emiley. It combines Great Western Washington Select malt, Northern Brewer hops from the Yakima Valley, Washington-produced Golden Delicious apples, blackberry and wildflower honey and mint in a heavily locally-interpreted version of a Belgian-style Farmhouse ale.
Not to leave anyone out who wanted to be a part of the collaboration, local brewers were able to contribute to the production of the Grange in a few ways. First, five-pound bags of Washington Select malt were distributed to homebrewers with the instruction simply to roast to a degree of personal taste and fragrance. These variously roasted malts constituted the beer's only specialty malt, and kept the all-Washington theme alive. Next, Elysian's Dan-o Beyer hosted a cider-pressing party on the day before the brew at Elysian's Capitol Hill location, yielding 70 gallons of sweet cider to be added to the next day's ferment. Finally, local brewers were invited to stop by to participate in the brew, as the brewing water was steeped with mint, the honeys added to the boil, and the yeast pitched. Additional mint was added in conditioning, resulting in a fragrant and complex beer of all-Washington origin. Never again to be exactly duplicated owing to the many distinct variables going into its production, Washington Grange Farmhouse Ale will be distributed in bottles to those attending this year's conference as well as on-site at Elysian's three pubs throughout the proceedings.
-Dick Cantwell