Elevation Beer Co. Collaborates on First Ark Valley Libation Society Beer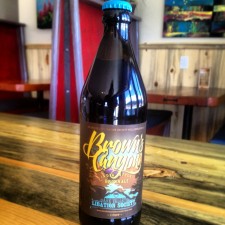 (Salida, CO) – Member brewers of the newly founded Ark Valley Libation Society have joined together to produce their first collaborative beer to both help get the group off the ground and benefit the effort to preserve a unique local treasure.
Set to release May 10, a portion of proceeds from the sale of the limited edition Browns Canyon India Style Brown Ale will be donated to Friends of Browns Canyon, a local group dedicated to preserving the iconic local whitewater canyon corridor as the nation's newest Monument and Wilderness area.
Browns Canyon India Style Brown Ale is brewed with Belgian yeast strain and delivers the hop forward delights of a traditional India Pale Ale with the malt backbone of a brown making this a very unique brew. AVLS vice-president Xandy Bustamante, of Elevation Beer Co., said the group had fun working together and that all are extremely pleased with the outcome. "I don't think we'll have any trouble selling out," Bustamante said. "I think it'll be gone in less than two months."
Bustamante explained the idea behind the project was to allow the group to do what it does best, make delicious craft beer, in order to help raise funds to get the guild off the ground. The mission of the group is to help put the area on the map as a statewide destination of craft beer and spirits in much the same way as Colorado's Grand Valley is known for wine. AVLS is also unified in its commitment to the community. AVLS members were eager to have a portion of the proceeds of the product benefit a local non-profit. AVLS President Mike LaCroix said Friends of Browns Canyon was an easy choice.
Keith Baker, executive director of the conservation-oriented non-profit said he was pleasantly surprised when AVLS contacted him about the project. "It's not every day you get a call from a group asking if it's ok to donate money to your non-profit," Baker said. "Hopefully, the money can help us get Sen. Mark Udall's proposed legislation the final mile so future generations of Coloradans can enjoy the 22,000-acre area's unique mix of exciting whitewater, wildlife and wilderness recreation that's so accessible to the Front Range."
AVLS is comprised of craft beer and spirit makers in this rural mountain valley in south central Colorado. Each of the three brewer-members of the guild – Amica's Pizza and Microbrewery, Elevation Beer Co., andMoonlight Pizza and Brew Pub – put together their award-winning expertise and contributed ingredients necessary to produce this unique small-batch beer, about 450 gallons in all. The beer will also be sold in bottles at AVLS associate members such as area liquor stores and restaurants.
In addition to the brewers, AVLS founding producer-members includeWood's High Mountain Distillery and Deerhammer Distilling Co. in upriver sister town, Buena Vista. The two local gin and whiskey making friends plan to collaborate on a special limited edition spirituous beverage.
ABOUT
The Ark Valley Libation Society is dedicated to promoting the Upper Arkansas River Valley as a unique Colorado destination offering exceptional opportunities to visitors and residents for education and the responsible enjoyment of craft beer, wine and spirits.
The startup is self-supported through the sale of collaborative product, special events, and passports that offer varying discounts on visits to member establishments. Silver passports are $25 and offer 10 percent off one visit to each member. Gold passports cost $50 and are good for 15 percent off unlimited visits to each member. Passports may be purchased and used at any of the member producer establishments for one year from date of purchase. Passport holders also get a free tasting, swag, and invite to the group's annual passport holders fundraiser. Discounts are valid only for on-premise consumption of food and beverages. For additional information about AVLS and its allied members, visit the AVLS Facebook page or website, http://www.ArkValleyLibations.com