Eagle Rock Brewery All Your Oat Hazy IPA Returns in 16 oz. Cans for The Holidays
(LOS ANGELES,CA)  ‒ Eagle Rock Brewery, (ERB) is gearing up to release their white IPA for the holidays. Their hazy IPA brewed with oats, oats, and more oats, and hops and oats will be released in the taproom on Thursday, November 15, 2018, on draft and in 16 oz. 4-packs of cans.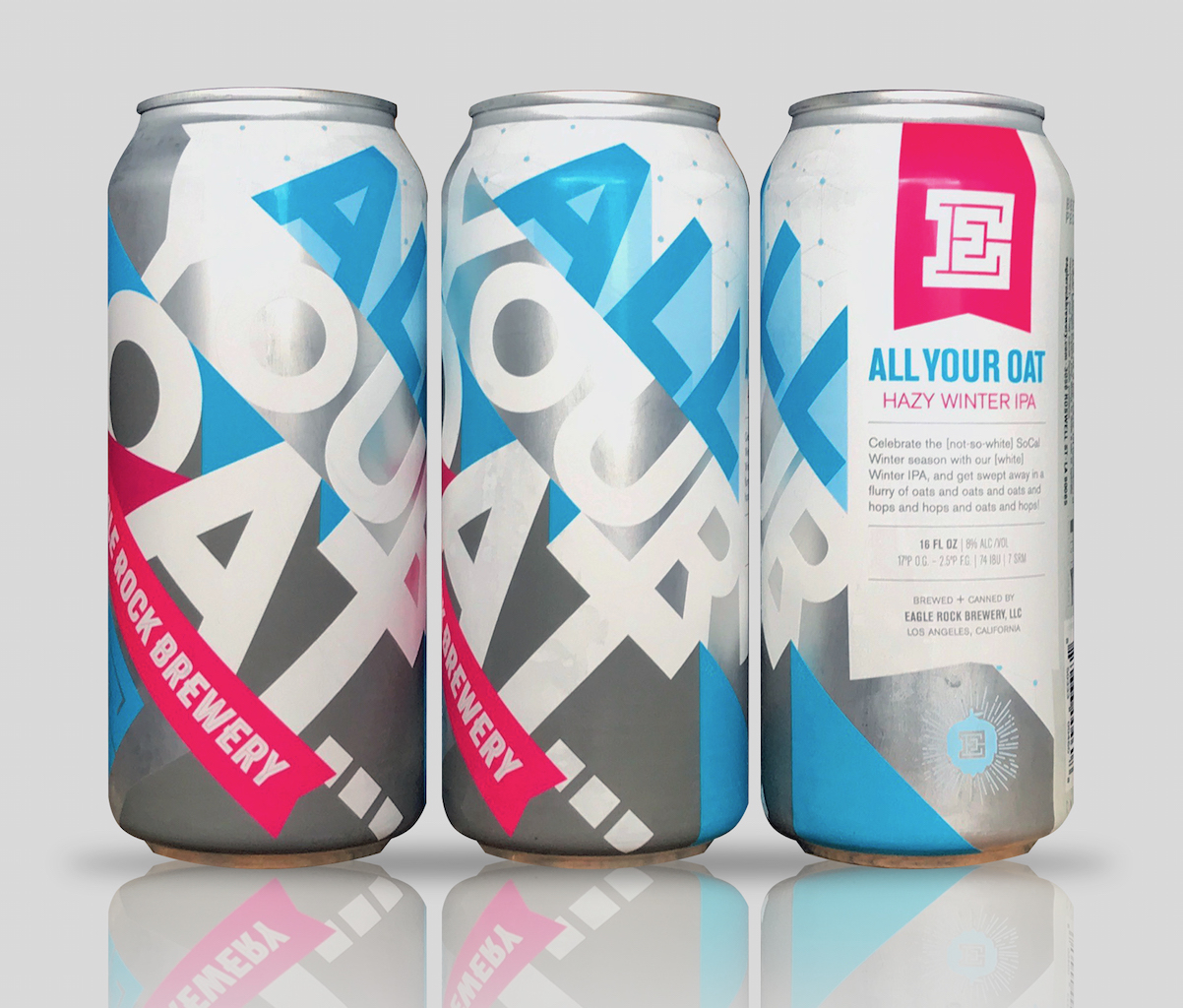 The beer, originally called 'All Your Oat Are Belong to Us' because of the use of multiple types of oats (malted oats, golden naked oats, and flaked oats). It was a play on the poor English translation for an old school (1989) arcade game called Zero Wing, and the acknowledgement of the brewery crew's collective video game nerdery. It was shortened to 'All Your Oat…' in subsequent releases because… well, longest name ever.
First released as their annual holiday beer back in 2014, this white IPA is inspired by the intersection of white winters, pine trees, candied fruit and the SoCal love of (a substantial amount of) hops. The aroma and flavors of a blend of Warrior, Chinook, Simcoe, Amarillo, Nelson Sauvin, and Mosaic hops bolsters the pine and candied fruit, while all the oats used in the beer give it a lovely pale haze and give it a great full-bodied silky mouthfeel.
There will be limited distribution on draft and in cans in select locations in Southern and Northern California.
ABOUT EAGLE ROCK BREWERY
When Eagle Rock Brewery opened its doors in 2009, it became the first microbrewery in decades to base its operations in the city of Los Angeles. This award-winning, family-owned and operated brewery was founded on a belief in producing unique, well-balanced beers̶ never compromising quality for quantity. As Eagle Rock Brewery continues to grow, this small family of beer lovers still works hard to promote the ongoing development of the LA beer community as well as the remarkable homebrewing community from which Eagle Rock Brewery sprang. Visit our taproom, find us on draft or you, Prost! For more information visit www.eaglerockbrewery.com.