Dust Bowl Brewing Wins Brewery of the Year at California State Fair
(Turlock, CA) – Dust Bowl Brewing Company was recently named "Brewery of the Year" by the prestigious California State Fair Commercial Craft Beer Competition. The contest is one of the craft industry's most recognized, longest-running beer competitions. The "Brewery of the Year" accolade was determined by the brewery scoring the highest medal point total in the robust competition that took in over 850 entries from 120 breweries. Dust Bowl Brewing Co. earned gold for Taco Truck Lager (International Lager), California Golden Ale (American Light Ales) and Hobo Pilsner (American or International Style Pilsner), while Therapist (American Imperial IPA) took home a silver. The contest is conducted and judged by BJCP (Beer Judge Certification Program) judges and industry peers. It follows all BJCP competition standards and is BJCP sanctioned.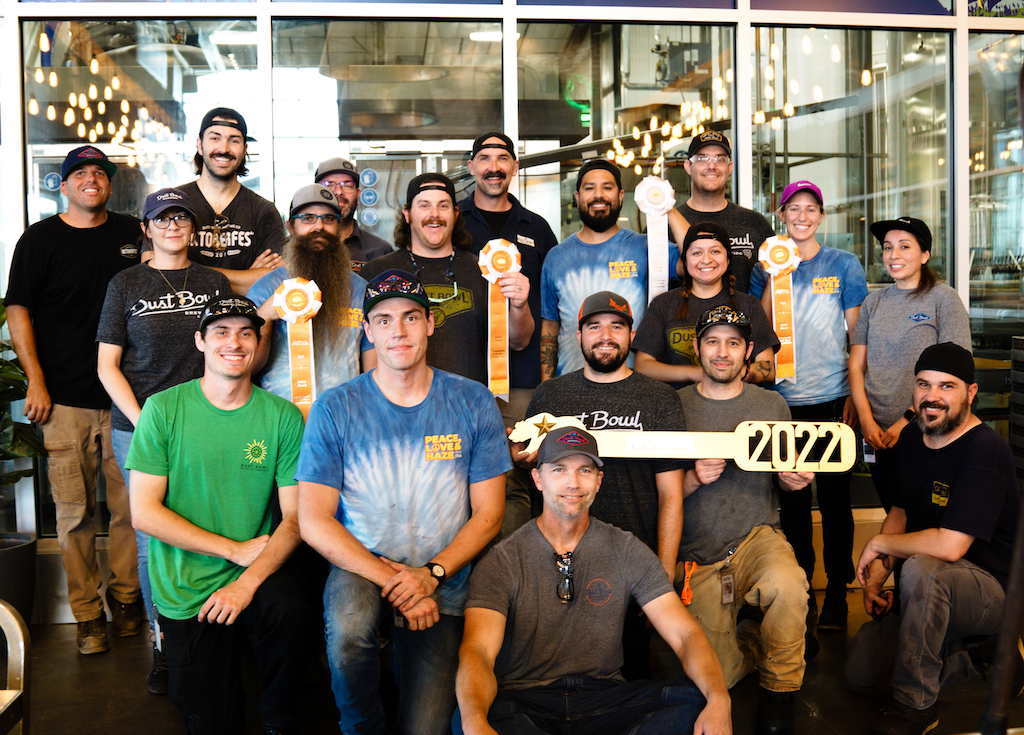 "We are honored to be recognized as Brewery of the Year," commented Don Oliver, Dust Bowl's brewmaster since the launch of the company in 2009. "We have learned a lot from competing with a group of amazing brewers in California. We are all operating in a challenging environment these days and it's spectacular for the team to see their hard work pay off."
Dust Bowl Brewing Co. showcased the winning beers at the Best of California Brewfest at the California State Fair on July 23, 2022. As a Regional Brewer, Dust Bowl Brewing Co. is coming off record production in 2021 with over 21,000 barrels. The data puts Dust Bowl in the Top 20 at 19 out of 958 craft breweries in the state.
California boasts more craft breweries than any other state in the nation.
Dust Bowl products are distributed throughout California, its home state, as well as Nevada, Arizona, Oklahoma, Texas, Pennsylvania and Vermont. The brewery also operates three taprooms in California, including its flagship taproom next to the brewery in Turlock, the Tap Depot in the popular destination of Monterey and its latest location, the Old Town Tap House in Elk Grove, just south of Sacramento.
# # #
Dust Bowl Brewing Co. produced its first beer in May 2009. The company is owned by Brett and Karen Tate and Brett and Camy Honoré, who became the Tate's business partners in 2010. The company built and moved its production to a 30,000 sq. ft. brewery and taproom, located in Turlock, California, in June 2016. Dust Bowl Brewing Co. beers are available in 5.2 and 15.5 gallon kegs along with selected styles in 22 oz. and 12 oz. bottles and 19.2 oz., 16 oz. and 12 oz. cans. Distribution includes California, Arizona, Nevada, Oklahoma, Pennsylvania, Texas and Vermont. Dust Bowl Brewing Co. achieved Regional Brewer status in 2020 with an annual production of over 16,500 barrels and produced over 21,000 barrels in 2021. The craft brewery showcases a wide variety of its beers at its three California taprooms, the Brewery Taproom located in Turlock, the Tap Depot in Monterey and the Old Town Tap House in Elk Grove. More information may be found at www.dustbowlbrewing.com.