DuClaw Brewing Unveils New Beers: Oatshake & More
(Baltimore, Md.) – Oat milk, known for its creaminess and simple ingredients, will debut in two of Baltimore-based DuClaw Brewing Company's upcoming limited release beers: 'Oatshake' double IPA and 'The PastryArchy Oat Milk' stout containing house made oat milk will release alongside 'Sour Me Blackberry Honeysuckle Tea' this month, hitting shelves by late January.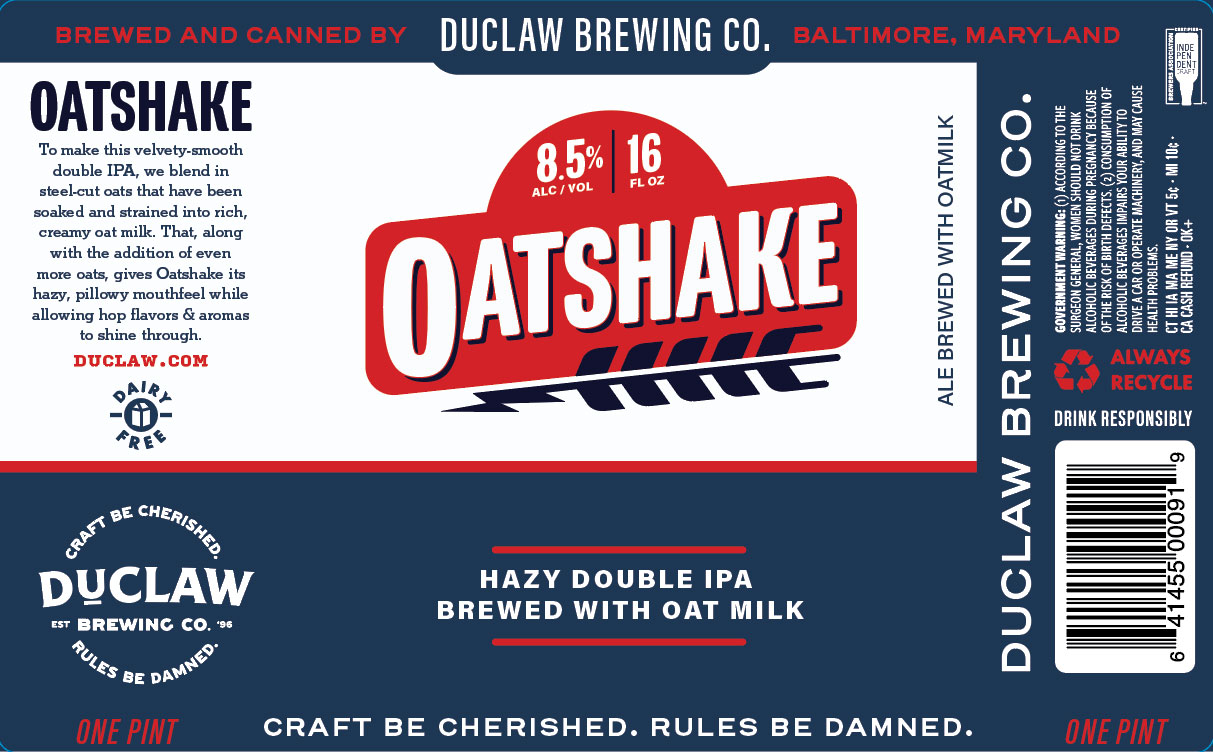 "Putting oat milk into beer sounds new, but it's really just extracting the liquid from soaking oats in water," said DuClaw Director of Brewery Operations Chris Wood. "Those are two ingredients we use frequently, and options were limited to purchase oat milk at high volumes since it's a newer product, so it made sense for a brewery of our size to give it a shot in-house."
It took two tries and a marathon day worth of cleaning sticky oats out of tanks after the first batch, but the end-result was positive for DuClaw. "And now we know how to do it!" said Wood with a smile.
The following beers will release in 16oz 4-packs, hitting shelves in DuClaw's footprint by end of January:
Oatshake double IPA (8.5%): Velvety-smooth with Citra & Mosaic hops, and house-made oat milk blended in for a hazy, pillowy mouthfeel with hop flavors & aromas that shine through.
The PastryArchy Oat Milk imperial stout (8.5% ABV): A luscious imperial stout anchored in notes of roasty coffee and chocolate, and a confection-like flavor with a hint of biscuit, balanced by creamy oat milk for a soft, medium-bodied mouthfeel.
Sour Me Blackberry Honeysuckle Tea (5.5% ABV): Sweet bursts of blackberry & honeysuckle harmonize in this fruity, floral & slightly tart sour with earthy undertones. A taste of spring, no matter the weather.
About DuClaw Brewing Company
Baltimore-based and fearlessly innovating in craft beer since 1996: Craft Be Cherished. Rules Be Damned. DuClaw beer is available in 19 U.S. states and DC, as well as in Canada and France. www.duclaw.com.