DuClaw Brewing Announces Summer Lineup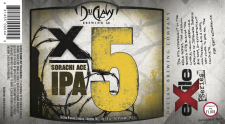 Baltimore, MD –  As the temperature rises, DuClaw Brewing Company plans to beat the heat by introducing four new beers during the summer season. The leading Maryland-based craft brewery recently released Bourbon Barrel Aged X-1 Imperial Chocolate Rye Porter and Anti-Venom Citra, and will release X-5 Imperial IPA with Sorachi Ace hops and Mad Bishop Oktoberfest by summer's end. One thing's for sure, beer enthusiasts won't go thirsty this summer. From light pale ales to robust porters, DuClaw Brewing Company has a brew to match every occasion and persuasion.
Just released, Bourbon Barrel Aged X-1 Imperial Chocolate Rye Porter pushes the robust porter style to new heights by bourbon barrel aging the World Beer Cup Silver Medal winner for Chocolate Beers. This 7.7% ABV medium-full-bodied porter boasts a rich aroma of roasted malt and cocoa, with big chocolate and roasted malt flavors accented by underlying notes of rye and coffee. The addition of real chocolate to the beer not only adds to the flavor profile, but also contributes to the velvety mouthfeel and crisp, bittersweet finish. Bourbon Barrel Aged X-1 Imperial Chocolate Rye Porter is available for a limited run, on draft and in 22oz bottles.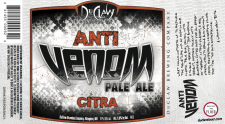 Anti-Venom Citra, the second beer in the Anti-Venom series, has been released on draft and in 22oz. bottles! The Anti-Venom Series experiments with new hop varieties to create new variations of the classic Venom American Pale Ale. Medium-bodied, clear and crisp, with big citrus flavors and aromas, a moderate 5.6% ABV, and an exquisitely dry finish, Anti-Venom Citra is a great thirst quencher on a hot summer day. Anti-Venom Citra is available on tap now at the Bel Air, Bowie and Arundel Mills DuClaw Brewing Company locations and at many other bars and restaurants in Maryland, DC and Northern Virginia. And, for those who prefer their beer to-go, 22oz. bottles of Anti-Venom Citra are also available now at beer retailers in those markets.
On Thursday, June 14, 2012, DuClaw will continue their Exile Series with X-5 Imperial IPA with Sorachi Ace hops. This medium-bodied light golden ale has a crisp, effervescent mouthfeel, a moderately strong 7.2% ABV, and Japanese Sorachi Ace hops that produce a unique lemongrass aroma and flavor for a Far East–inspired beer drinking experience unlike any other. "You always see beers touting fruity flavors in the summer months," said CEO Dave Benfield. "X-5 offers refreshing citrus notes without being overly sweet or artificial." X-5 will be available on draft and in 22oz bottles.
Wednesday, July 25, 2012, DuClaw Brewing Company locations in Bel Air, Bowie and Arundel Mills are celebrating Christmas in July! Each location will tap one special seasonal brew normally released during the winter months, giving all of their customers, naughty or nice, a deliciously early Christmas gift.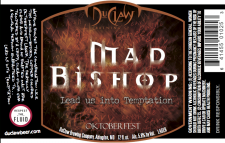 To close out the summer, Mad Bishop Oktoberfest will be released on August 22, 2012. Mad Bishop combines complex aromas and flavors of sweet and toasted malt, a smooth mouthfeel created by an eight-week conditioning (or lagering) process, a moderate 5.8% ABV, and a clean, crisp finish. Mad Bishop will be available on draft and in 12oz six packs.
For more information, please visit the DuClawBeers page on Facebook.
 About DuClaw Brewing Company
Currently based in Bel Air, MD, DuClaw Brewing Company is a leading craft brewery founded in 1996. Having outgrown its current brewing facility, the company will be moving into a much larger space to keep up with growing demand for barrels of its ever-expanding lineup of specialty brews. DuClaw also operates pub restaurants in Arundel Mills, Bel Air, Bowie and BWI Airport that serve its award-winning craft beers on tap. For more information on DuClaw Brewing Company visit www.DuClawBeer.com, like them on Facebook.com/DuClawBeersor follow them on Twitter @DuClawBrewing.