Dry Dock Brewing Releases Cool Lime Lager In Bombers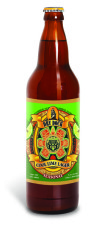 Aurora, CO – The Cool Lime Lager is back! Originally brewed for Old Chicago's 2014 Cinco De Mayo Tour, the refreshing Cool Lime Lager was such a hit that Dry Dock decided to start packaging it for the 2015 summer season. This April the beer will be available in 22-ounce bombers for the first time.
Canoe Room at North Dock, Dry Dock's production facility tasting room, will host a Cool Lime Lager bomber release party on Friday, April 24 from 12pm to 7pm. The beer will be available on draft and in bombers to go. Cool Lime Lager will be available on draft and in bombers at South Dock, Dry Dock's original location, the first week of May.
ABOUT THE COOL LIME LAGER
Nothing says patio beer like crisp, refreshing lager. Add limes and you've got yourself a party. Dry Dock's Cool Lime Lager is brewed with two different varieties of lime and kaffir lime leaves for a complex citrus flavor that's as easy drinking as the summer days are long.
Food Pairing Suggestions: spicy Mexican food, chips & salsa, fish tacos, chicken mole, and coconut flan for dessert.
5.2% ABV, 12 IBU
ABOUT DRY DOCK BREWING CO.
Dry Dock Brewing Company was the first brewery in Aurora, Colorado that opened next door to its sister business, The Brew Hut, at 15120 E. Hampden Avenue. To-date, it's one of Colorado's top producing breweries made possible by its second production facility North Dock, the closest Colorado craft brewery to the airport. Dry Dock will celebrate its 10th anniversary in 2015.
www.drydockbrewing.com – @DryDockBrewing – facebook