Dry Dock Brewing Cascara Imperial Stout Release Details
(AURORA, CO) — Dry Dock Brewing Company is releasing the final 2015 Signature Series beer, Cascara Imperial Stout, on Thursday, January 7, 2016 at Canoe Room at North Dock at This whiskey barrel-aged Signature Series beer has added cascara, the dried fruit of coffee berries.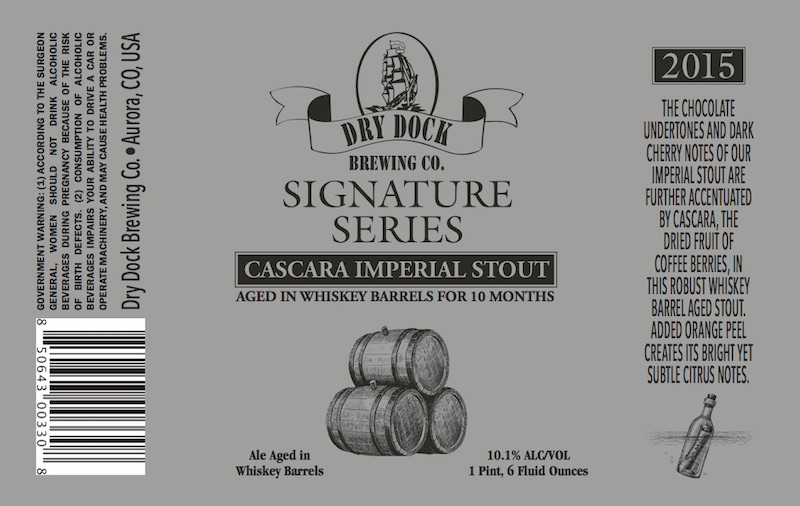 Dry Dock sources the coffee beans for its Signature Series through Denver's Coda Coffee, owned by brothers Timmy and Tommy Thwaites who combined have more than 20 years of experience in the coffee industry. Tim and Tommy introduced us to the dark cherry, rich leather, and tobacco flavors of cascara. The profile was a natural complement to our Signature Series Whiskey Barrel Aged Imperial Stout, and the sixth of this year's Signature Series beers was born.
"The notes of the Cascara blend well with the chocolate, vanilla, and marshmallow notes in the Imperial Stout," says North Dock Head Brewer Alan Simons, who created this Signature Series beer. "In the tradition of a well-balanced cocktail, such as an Old Fashioned, we added some bitter orange peel to brighten the beer a touch. We used more than one pound per barrel of Cascara and a half pound per barrel of bitter orange peel."
Cascara Imperial Stout will be available on draft and in 22 oz. bombers at North Dock through that weekend, and available at South Dock and in Colorado liquor stores in mid-January.
To learn more about cascara, visit drydockbrewing.com/cascara. For more information about Dry Dock's Cascara Imperial Stout, the 2015 Signature Series lineup, or with any other media inquiries, contact Emily Hutto at[email protected].
ABOUT CASCARA IMPERIAL STOUT
The chocolate undertones and dark cherry notes of our Imperial Stout are further accentuated by cascara, the dried fruit of coffee berries, in this robust whiskey barrel-aged stout. Added orange peel creates its bright yet subtle citrus notes. 10.1% ABV; 50 IBU.
ABOUT DRY DOCK BREWING CO.
Dry Dock Brewing Company was the first brewery in Aurora, Colorado that began as a small speakeasy-style bar next door to its sister business, The Brew Hut, at 15120 E. Hampden Avenue. To-date, it's one of Colorado's top producing breweries made possible by its second production and canning facility North Dock, the closest Colorado craft brewery to Denver International Airport.
Follow Dry Dock on Facebook at facebook.com/DryDockBrewing and on Instagram and Twitter @DryDockBrewing.