Double Mountain Brewery Releases Limited Bottles of Lulu Saison
(Hood River, OR) –  Double Mountain Brewery & Taproom is pleased to announce the release of Lulu Saison Style Beer in reusable, custom designed 12.7oz split champagne bottles. The Lulu will be available in limited quantities in Oregon, Washington, and possibly California. This unique beer will be available in retail stores as soon as May 15th, 2014. It is currently available at the Double Mountain Taproom in Hood River, OR.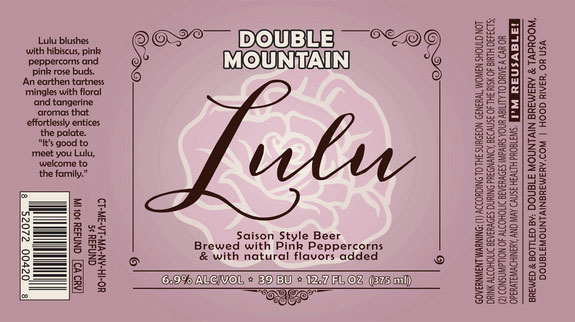 This beer was brewed in honor of the birth of Head Brewer Kyle Larsen's second daughter, Love (pronounced "lou-vay), and is the second in a limited series. The Lulu blushes with additions of hibiscus, pink peppercorn, and pink rosebuds. An earthen tartness mingles with floral and tangerines aromas, and a slight warming at the back of the mouth rounds out the Lulu Saison. 6.9% ABV, 39 BU
Chosen as a Draft Pick in the May/June 2014 issue of Draft Magazine, the Lulu has already begun to make a name for itself with adventurous, yet subtle array of flavors. "Lulu's a fair-weather charmer, tempting the tongue with a spritzy, ever-so-slightly tart tip." Draft Magazine describes, "Soft botanicals and subtle, fruity peach flavors enhance a rustic wash of dried wheat; warming peppercorn builds into a vivaciously sharp swallow."
For more details about the Lulu visit the Double Mountain Brewery Blog.
About Double Mountain Brewery and Taproom
Double Mountain Brewery and Taproom was established in 2007 in the heart of downtown Hood River, OR. Founders Matt Swihart and Charlie Devereux opened the brewery with a clear mission: make great beer for craft beer fans. Double Mountain Brewery's unique location lends to not only using pure and clean glacial runoff water for their beers, but they also take advantage of regionally grown hops. Double Mountain Brewery and Taproom's unfiltered and long-aged beers deliver maximum flavor and character. They can be found on tap and bottles throughout the Pacific Northwest and Southern California. Learn more at www.doublemountainbrewery.com.