Dominion Brewing Adds Candi To Variety Pinup Pack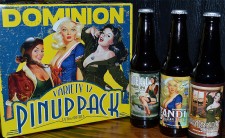 Dover, DE – Dominion Brewing is releasing the only 2013 addition to their Pinup series, Candi Belgian Tripel, this week.
Don't be fooled by Candi's golden appearance. This Belgian Tripel may taste of sugar and spice, but her beguiling introduction is far from nice, flirting with a covert 9.5% ABV. Saaz and Halltertau hops provide a clean, floral aroma with minimal hop bitterness and the soft sweetness of apricot and pear lingers nicely against a dry finish.
Casey Hollingsworth, Dominion Vice President of Sales, stated, "When we looked into styles for our Variety Pinup Pack, we realized that we hadn't tackled the trilogy (Dubbel, Tripel, or Quadruple): We chose the Tripel for the challenge it would present to the brewers. Tripels can be misleading due to their delicate appearance and aroma, but aggressive when it comes to flavor and alcohol content. Candi balances all of those attributes and she is the ideal addition to our Pinup Pack."
Candi is available in the Pinup Pack and on draft.
Candi will be replacing GiGi's Farmhouse Ale as the next rotating brand in the Pinup Pack, a year-round variety 12-pack that includes Dominion core brands Double D IPA and Morning Glory. A third style rotates through the pack three times per year.
Based on shared values and a common philosophy of quality brewing, Fordham Brewing & Dominion Brewing joined forces in 2007 and consolidated operations in 2009. The First State is now home to the Fordham & Dominion Brewing Co., where beer lovers from near and far are able to stop by, get to know us, and enjoy our handcrafted beer and soda. Our roots run deep throughout the Mid-Atlantic region and we remain dedicated to our craft. Throughout our history, we have always believed in two things: the beer we make and the people who drink it. For more information, visit fordhambrewing.com or olddominion.com.